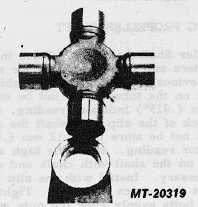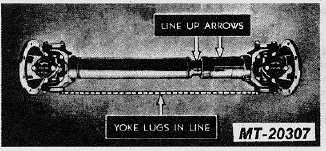 TRUCK SERVICE MANUAL
TM 5-4210-230-14&P-1
PROPELLER SHAFT
INSTALLATION
Fig.  36
JOURNAL   CAPS   WITH   LOCK   FLATS   (Fig.      36)-
When installing new journal kit caps into yoke ear holes, the
lock flat on two of the journal caps must be kept in alignment
with the locking flats near the front of the yoke ears.  Proper
location of locking flats will assure that the journal cap will not
rotate.
The  installation  of  a  driveshaft  into  the  vehicle  does
not present any unusual mechanical difficulties.  Before actual
installation, the driveshaft should be checked for the following
items:
1.
No damage or dents on driveshaft tubing which could
cause  unbalance.    If  the  dents  are  severe  enough
they  can  weaken  the  tube  and  a  failure  might  occur
under torque load.
2.
Splines   should   slide   freely   with   slight   drag   from
spline seal.
3.
Bearings should flex and be free from excessive bind.
A  slight  drag  is  the  most  desirable  condition  on  a
new  universal  joint.  This  drag  is  from  the  bearing
seals.      When   rotating,   yoke   lug   deflections   cause
some  additional  clearance.    Excessive  looseness  is
not desirable due to the resulting unbalance.
4.
Mounting   flanges   and   pilots   should   be   free   from
burrs, paint and foreign substances which would not
allow proper seating at assembly.
The    driveshaft    is    mounted    using    flange    bolts,    bearing
capscrews,    or    "U"    bolts    depending    upon    the    size    and
construction.    These  bolts  must  carry  high  torque  loads  and
should   be   of   quality   material   and   properly   torqued.      The
following reviews requirements on these bolts:
1.
Flange   Bolts:   Flange   bolts   should   be   alloy   steel
equivalent   to   SAE   Grade   8,   high   strength   bolts.
These  bolts  used  with  spring  lockwashers  and  nuts
provide  the  capacity  required.    The  nuts  should  be
torqued to the following specifications:
N.m
Ft.  Lbs.
5/16"-24 Thread
29.8-32.5
22-24
3/8"-24 Thread
54.2-59.6
40-44
7/16"-20 Thread
85.4-94.9
63-70
1/2"-20 Thread
132.9-146.4
98-108
IMPORTANT
In cap and bolt construction joints (Fig.  7), be
sure  to  torque  the  capscrews  to  135.6  N.m
(100  ft.lbs.).  These  joints  are  usually  in  the
inter-axle assemblies.
2.
U-Bolt Style.  Yokes: On smaller size universal joints,
a  "U"  bolt  style  end  yoke  is  used.  This  construction
permits   easier   assembly   where   the   smaller   size
bearings allow its use.  The bearing race is seated in
a  half  round  hole  and  under  locating  ears.    Be  sure
that  mounting  faces  are  cleaned  of  rust,  paint  and
other foreign material.  The "U" bolts are assembled
over   the   bearing   races   to   retain   them   in   the   end
yokes.  Spring lockwashers and nuts should be used
with   these   "U"   bolts   at   assembly.      The   following
torque loads are suggested for use with these parts:
N.m
Ft.  Lbs.
5/16"-24 Thread
18.9-23.0
14-17
3/8"-24 Thread
27.1-32.5
20-24
7/16"-20 Thread
43.3-50.1
32-37
These    torque    loads    are    somewhat    lighter    than
normally  used  with  these  thread  sizes,  however,  the  lower
torques are required to prevent bearing race distortion.
ASSEMBLING SLIP JOINT ON SHAFT
Fig.  37
CTS-2730  Page 19
PRINTED IN UNITED STATES OF AMERICA