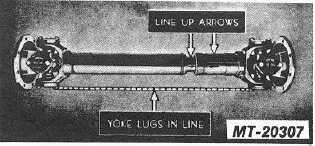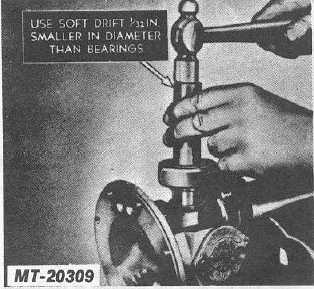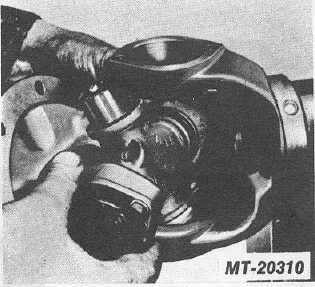 TRUCK SERVICE MANUAL
TM 5-4210-230-14&P-1
PROPELLER SHAFT
SERVICE INSTRUCTIONS
REMOVAL OF THE SLIP JOINT
1.
Slip Joint (All Types).  Unscrew the dust cap from the
sleeve yoke and slide the joint off the driveshaft (Fig.
17).
2.
ARROW    MARKS    Make    sure    arrow    marks    are
stamped    on    the    shaft    and    sleeve    yoke    before
removing the slip joint (Fig.  18). If arrow marks are
not  readily  seen,  mark  both  members  so  that  when
reassembled they will be in exactly the same relative
position,  since'  the  sleeve  yoke  lugs  must  be  in  'the
same    plane    as    the    stub    ball    yokes    to    prevent
excessive vibration.
Fig.  17
Fig.  18
DISASSEMBLING UNIVERSAL JOINT MEDIUM AND HEAVY
DUTY
1.
LOCK  STRAP  Bend  down  the  locking  lugs  with  a
screwdriver and remove the capscrews.
2.
NEEDLE    BEARINGS    &    RETAINING    CAP    SUB-
ASSEMBLY Remove by using a large pair of channel
lock pliers on retaining cap edges, turn retaining cap
and  bearing  subassembly  at  the  same  time  lifting
upward to remove the sub-assembly from the journal
trunnion diameter and out of the yoke hole. Turn the
joint  over  and  tap  the  exposed  end  of  the  journal
cross until the opposite needle bearing is free.  Use a
soft  round  drift  with  flat  face  about  .79  mm  (1/32")
smaller in
diameter than the hole in the yoke, otherwise there is danger
of damaging the bearing (Fig..  19).
3.
JOURNAL CROSS Remove by sliding it to one side
of the yoke and tilting it over the top of the yoke lug
(Fig.  20).
Fig.  19
Fig.  20
CTS-2730  Page 13
PRINTED IN UNITED STATES O F AMERICA