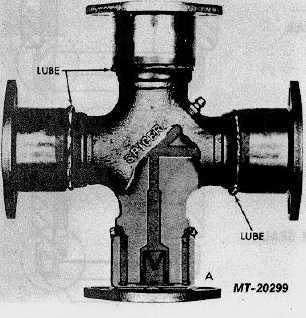 TRUCK SERVICE MANUAL
TM 5-4210-230-14&P-1
PROPELLER SHAFT
LUBE SPECS
DON'T NEGLECT DRIVE SHAFT LUBRICATION
Lack of adequate or proper lubrication is among the
most   common   causes   of   U-Joint   and   drive   shaft   failure!
Proper   servicing   of   the   drive   shaft   is   an   essential   part   of
vehicle maintenance and should not be overlooked in routine
shop procedure.
UNIVERSAL JOINTS
IN THE VEHICLE OR APPLICATION
To    insure    proper    lubrication    of    all    four    bearing
assemblies  on  universal  joints,  it  is  essential  that  mechanics
add lubricant until it appears at all journal cross bearing seals
(Fig.  10).    This  assures  removal  of  dirt  particles  and  other
contaminants  that  may  find  their  way  into  the  bearings  and
indicates    to    the    mechanic    that    the    bearings    are    fully
lubricated.  Do  not  assume  that  bearing  cavities  have  been
filled with new lubricant unless flow is noticed around all four
bearing  seals!  Journal  cross  seals  are  designed  to  relieve.
However, if all the seals do not "pop" when being lubed, move
the driveshaft laterally in all four directions and pull or push on
the  drive  shaft  in  the  direction  opposite  to  the  journal  cross
seal not relieving while lube gun pressure is being applied to
the alemite fitting.  An increase in line pressure may also be
necessary.
Fig.  10
DRIVE SHAFT ASSEMBLY
Factory assembled drive shafts are lubricated at the
plant  prior  to  shipment.    However,  shipping,  handling  and
installation of the drive shaft assembly into the vehicle usually
results  in  some  loss  of  lube.    Therefore,  it  is  recommended
that all universal joints be relubricated after installation of the
drive shaft prior to putting vehicle in service.
JOURNAL AND BEARING KITS
Replacement universal joint kits contain only enough
grease to provide needle bearing protection during storage.  It
is
therefore
necessary
to
completely
lubricate
each
replacement kit prior to assembly, into the drive shaft yokes.
Each journal cross lube reservoir should be fully packed with
a  recommended  grease  and  each  bearing  assembly  should
also  be  wiped  with  the  same  grease;  filling  all  the  cavities
between  the  rollers  and  applying  a  liberal  grease  coating  on
the  bottom  of  each  race.    After  the  kits  are  installed  into  the
driveshaft yokes and prior to placing into service, they should
be relubed, through the zerks, using the same grease.
LUBRICANT
For  center  bearings,  slip  joints  and  universal  joints
use IH 251 HEP grease or equivalent NLGI #2 multi-purpose
grease.
RELUBE CYCLES
Relubrication   cycles   for   driveshaft   universal   joints
and   slip   splines   will   vary   with   service   requirements   and
operating conditions.  Refer to Operator's Manual.
SLIP JOINT LUBRICATION
Relube  spline  at  intervals  prescribed  in  Operator's
Manual.    Apply  grease  gun  pressure  to  lubrication  zerk  until
lubricant   appears   at   pressure   relief   hole   in   welch   plug   at
sleeve  yoke  end  of  spline  (Fig.    11).    At  this  point,  cover
pressure relief hole with finger and continue to apply pressure
until grease appears at sleeve yoke seal (Fig.  12).  This will
insure complete lubrication of spline.
CTS-2730  Page 10
PRINTED IN UNITED STATES OF AMERICA