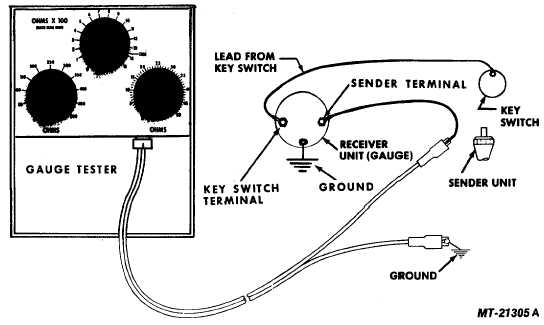 TRUCK SERVICE MANUAL
TM 5-4210-230-14&P-1
INSTRUMENTS
Fig.  19 Checking Fuel Level Gauge System with Gauge Tester
Test for faulty component as follows.
1.
Disconnect wire at tank sender unit (Fig.  19).
2.
Connect one lead of SE-2781 Gauge Tester to end of
sender   unit   wire   and   second   lead   to   ground   (tester
substitutes for sender unit).
3.
Turn key switch "on".
4.
Set gauge tester for 88 ohms (left hand control knob to
"50" and right hand knob at "38").  Fuel gauge should
read slightly above "full".  (Pointer within ball).
5.
Next  set  left  hand  knob  at  "0"  and  right  hand  knob  at
"44".  Fuel gauge should read at "1/2" mark.  (Pointer
within ball).
6.
Finally set left hand knob at "0" and right hand knob at
"1".  Gauge should now read "empty".  (Pointer within
ball).
If  fuel  gauge  

reads

 

properly,

 gauge  and  wiring  between
gauge and sender is OK and trouble is in sender grounding or
sender itself.  Replace float assembly if proper grounding does
not correct the problem.
If fuel gauge does not read properly, check continuity of
circuit with standard test light (Fig.  12).  If continuity is OK and
gauge still does not respond, replace gauge.
WATER TEMPERATURE GAUGE
The   water   temperature   gauge   system   consists   of   two
basic    components--the    instrument    cluster    gauge    and    the
thermister sending unit.  The gauge indicates water temperature
while the sender controls the gauge reading.  The two units are
connected electrically as shown in Fig.  20.
The   operating   principle   of   the   temperature   indicating
system can be understood by reference to the temperature gage
circuit   diagram   (Fig.      20).      With   the   ignition   switch   closed,
current will flow from the battery through the bucking and "cold"
coils and the fixed resistor to ground, and through the "Hot" coil
and the variable resistance temperature sender to ground.
The     temperature     sender     consists     of     a     thermistor
enclosed  in  a  sealed  threaded  shell  containing  a  heat  transfer
medium  and  equipped  with  an  insulated  terminal.    With  the
temperature   sender   immersed   in   a   cold   liquid   (1000F),   its
resistance is high and the current flowing through the "hot" coil
is small; therefore, the magnetic field produced by the "hot" coil
is  negligible.    At  this  time  the  pointer  and  armature  assembly
will align itself with the resultant magnetic field produced by the
"cold" and bucking coils at the 1000 F position.  The magnetic
field  of  the  "cold"  and  bucking  coils  is  always  a  constant  and
serves   as   a   reference.      As   the   temperature   of   the   liquid
increases,   the   resistance   of   the   sender   decreases   since   the
thermistor has a negative temperature
CTS-2735R  Page 11
PRINTED IN UNITED STATES OF AMERICA