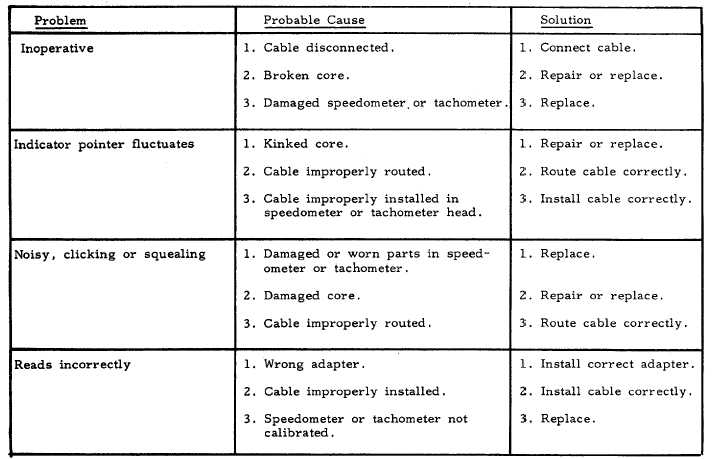 TRUCK SERVICE MANUAL
TM 5-4210-230-14&P-1
INSTRUMENTS
SPEEDOMETER, TACHOMETER AND CABLE TROUBLE SHOOTING
Remove
1.
Disconnect  upper  end  of  speedometer  or  tachometer
cable     by     removing     four     mounting     screws     from
instrument   cluster   and   detaching   cluster   enough   to
expose back of cluster.
2.
Depress   spring   clasp   on   back   of   speedometer   or
tachometer and release cable (Fig.  4).
3.
Unscrew   cable   lower   or   drive   end   from   adapter   at
either transmission or engine component.
4.
Unfasten   cable   from   any   ties   or   clips   and   remove
complete cable assembly from chassis.
Inspect
1.
Pull the flexible core out of case and check for kinks by
rolling core on a flat surface.
2.
A core kink will show up as a hop at kinked point.
3.
Check for frayed spots by running core loosely through
fingers.
Repair
or
Replace
Core
Never reuse a kinked or frayed core.  A kinked core will
cause a fluctuation of speedometer or tachometer reading and a
frayed core will fail completely a short time after being returned
to service.
IMPORTANT
If replacement core is used, be sure core is not
too  long.    A  long  core  will  cause  a  damaging
thrust  to  head  of  speedometer  or  tachometer
when installed.
Install
Apply   a   thin   coat   of   lubricant   (IH   #251H   EP)   to   core   at
reassembly as follows:
1.
Place approximately 1 teaspoon of lube in one hand.
CTS-2735  Page 8
PRINTED IN UNITED STATES OF AMERICA