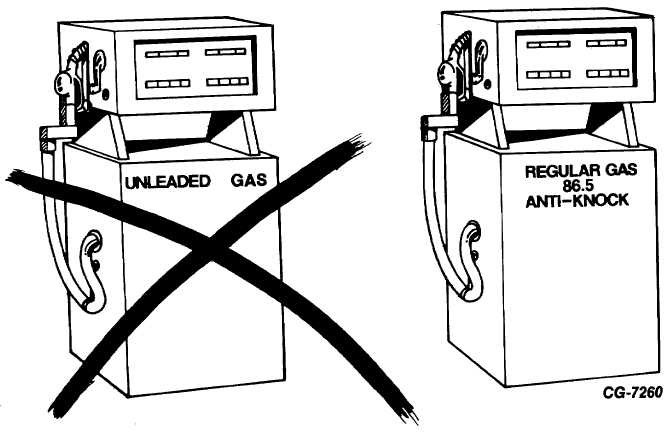 ENGINE DIVISION SERVICE MANUAL
TM 5-4210-230-14&P-1
ENGINE FUEL REQUIREMENTS
Your     gasoline     engine     is     designed     to     operate
efficiently in normal operations on "Regular" grade fuels
of  at  least  91  RON  (Research  Octane  Number)  or  86.5
anti-knock  index  designation.  (The  latter  figure  is  now
generally posted on fuel dispensing pumps.) "Low Lead"
fuel   containing   at   least   .13   gpl   (0.5   gpg)   lead,   or   the
equivalent additive, per gallon may be used.
Continuous use of gasoline which is completely free
of
lead,
or
other
lubricating
additives
such
as
phosphorus,   is   not   recommended 

.     

Prolonged   use   of
such  fuel  can  cause  excessive  exhaust  valve  seat  wear
resulting  in  loss  of  emission  control,  poor  performance
and possible engine failure.
Because of this, it is recommended that you alternate
to  regular  grade  fuel  every  fourth  tank

.    

The  alternating
fuel   method      is   not   necessary   with   use   of   low   lead
content  fuel  as  it  can  be  successfully  used  without  any
harm to your engine.
Use of a fuel which is too low in antiknock quality will
result  in  "spark  knock."  Since  anti-knock  quality  of  all
"regular"  grade  gasolines  is  not  the  same  and  factors
such    as    altitude,    terrain    and    air    temperature    affect
operating  efficiency,  knocking  may  result  even  though
you  are  using  the  grade  of  fuel  recommended  for  your
engine.
Continued   engine   operation   under   "Spark   Knock"
conditions  can  cause  severe  engine  damage

.    

At  these
times  a  higher  antiknock  quality  gasoline  is  required  to
prevent engine damage

.   

If knocking persists with higher
grade fuel, it is recommended an IH or suitably qualified
service   outlet   be   contacted   as   engine   repairs   may   be
needed.
Fig. 96  Engine Fuel Requirements.
CGES-215  Page 56
PRINTED IN UNITED STATES OF AMERICA