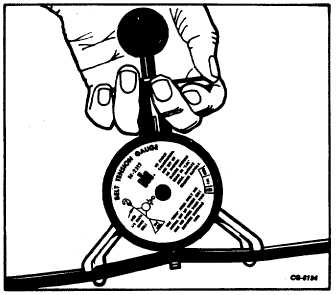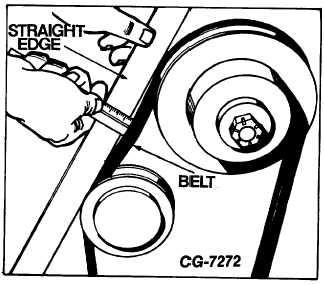 ENGINE DIVISION SERVICE MANUAL
TM 5-4210-230-14&P-1
will be necessary to increase or decrease belt tension
as required.
(5)
Before changing belt tension, repeat Step (3) several
times    to    become    familiar    with    gauge    operation.
Observe    gauge    reading    each    time    operation    is
repeated.      Check   tension   of   both   belts   when   so
equipped.
Fig.  64  Checking Belt Tension With SE-2312 Gauge
To   establish   tension   of   a   loose   belt   apply   SE-2312
gauge  to  belt  and  make  the  adjustment.    Tighten  belt  until
proper area for belt is indicated at index mark on gauge.  Lock
adjustment and recheck belt tension.  Readjust as necessary.
When using SE-2312 belt tension gauge, remember to
set new belts (belt with less than two minutes running time) to
the NEW area on gauge face and used belts (more than two
minutes running time) to USED area on gauge.
Belt  tension  may  also  be  checked  by  using  a  straight
edge and scale as illustrated (Fig.  65).
Approximately  12.7  mm  (½  inch)  deflection  should  be
measured.      The   deflection   measurement   should   be   made
between pulleys at mid-point of longest belt span.
Fig.  65  Measuring Belt Tension
1.  Straight Edge
2.  Belt
INSPECT AIR PUMP AIR FILTER(S)
Inspect   air   pump   centrifugal   air   filter;   if   clogged   or
damaged,   air   pump   centrifugal   filter   can   be   replaced   as
follows:
(1)
Hold  pump  pulley  from  turning  and  remove  pulley
mounting bolts.
(2)
Insert needle nose pliers and pull filter fan from hub
(Fig.        66).        Care    should    be    taken    to    prevent
fragments of the fan from entering the air intake hole.
(3)
Install new filter fan by drawing it on with the pulley
and pulley bolts (Fig.  67).  Do not attempt to install
the filter by hammering or pressing it on.
(4)
Draw  filter  fan  down  evenly  by  alternately  tightening
the   pulley   mounting   bolts.      Make   certain   that   the
outer  edge  of  the  filter  slips  into  the  pump  housing.
A  slight  amount  of  interference  with  housing  bore  is
normal.
(5)
Hold pulley from turning and torque pulley bolts to 34
N.  m (25 ft.  lbs.).  The new filter may squeal up on
initial  operation  until  its  outside  diameter  sealing  lip
has worn in.
CGES-215  Page 38
PRINTED IN UNITED STATES OF AMERICA