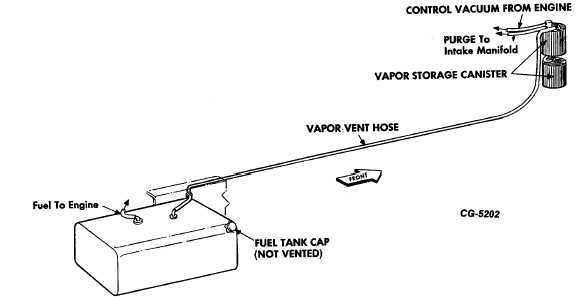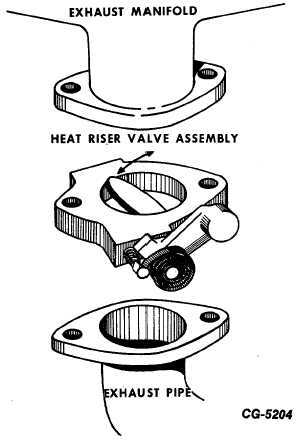 ENGINE DIVISION SERVICE MANUAL
TM 5-4210-230-14&P-1
Fig.  38  S-Series 1723 and 1823 Bus With 52 Gallon Fuel Tank
8.
Check Engine Bolt Torque and Tighten if Necessary.
Torque carburetor, intake manifold and exhaust manifold
mounting bolts (see Tune-Up Specifications).
9.
Check  Exhaust  Gas  Control  Valve  for  free  operation
and service or replace, if necessary (where used).
a.
Inspect  exhaust  heat  riser  valve  for  free  operation
(Fig.  39).
b.
Free up with solvent, if necessary, while turning valve
by hand (valve should turn to closed position when at
ambient temperature)
c.
If  valve  cannot  be  freed  with  solvent,  replace  with
new valve.
10.   Check    Coil    output    Voltage    and    replace    Coil,    if
necessary.
a.
Connect SE-2576, or equivalent, test equipment.
b.
Start    and    operate    engine    until    normal    operating
temperatures  are  reached.    Then,  increase  engine
speed to 2500 RPM.
c.
Record  coil  output  voltage.    If  coil  output  voltage  is
not
within
specifications
(see
Tune-Up
Specifications), proceed as follows:
Fig.  39  Heat Riser Valve
d.
Measure  the  D.C.  voltage  at  the  positive  terminal  of
the  ignition  coil  with  the  engine  at  idle  speed  and
record. age 23
CGES-215  Page 23
PRINTED IN UNITED STATES OF AMERICA