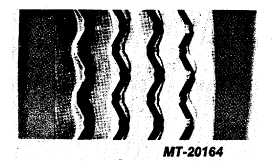 TM 5-4210-230-14&P-1
VEHICLE MAINTENANCE
2.
If

rib

type

tire is used on front axle and

lug

type

on rear axle positions:  FRONT (STEERING) AXLE-Install new tires in front
wheel positions.  When worn to 3.175 mm (1/8 in.) remaining groove depth, they must be removed and can be moved to
trailer positions.  REAR AND TRAILER AXLES Tires must be removed when worn to 1.588 mm (1/16 in.) remaining original
groove depth.  However, tires identified with the word "regroovable" molded on the side wall can be regrooved.
CIRCUMFERENTIAL TREAD CHANNELING
A type of irregular wear which can occur on any tire but which is more prevalent on radial tires, is sometimes called "erosion
wear", "freerolling wear" or "river wear".  It is characterized by a fast-wearing channel adjacent to one or both sides of the groove.
This type of wear is found most typically on any free-rolling position.  Tires on drive positions can also generate this condition but
due to the faster rate of wear and the torque being transmitted through these tires, the wear is worn away as fast as it develops and is
very rarely observed.
Wear of this type will generally not detract from the overall mileage that the tire can give, if it is caught and corrected before it
progresses to an advanced state.  Tires with this condition should be moved to drive positions where it can be smoothed out.
CAUTION
To prevent bodily harm the following points must be strictly adhered to when mounting radial tires on wheels.
1.
Before mounting radial tires make certain that heavy duty rims or approved rims for radial tires are being used.  It may be
necessary to contact your wheel and rim distributor to determine if rims are approved for radial tires.
2.
If a tube is to be used make sure special  radial  tire  tubes  are  used  because  of  the  increased  flexing  of  the  side  walls  on
radial tires.
3.
Never use soap when mounting radial tires, an approved lubricant by the tire manufacturer or water can be used as an aid
for mounting tires.
TRANSMISSION
Air Filter
The transmission air filter having a replaceable element is located on the left side of the transmission and filters the air require to
operate  the  transmission  air  shift  cylinder.    Moisture  should  be  drained  from  the  filter  and  the  element  changed  at  regular  pre-
established intervals.  Refer to Lubrication Chart and Instructions.
INSTRUCTIONS FOR CHANGING THE AIR FILTER ELEMENT
1.
Remove drain plug to blow off air pressure and collected moisture.
13