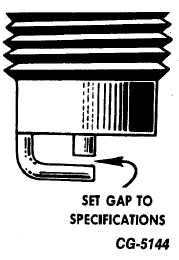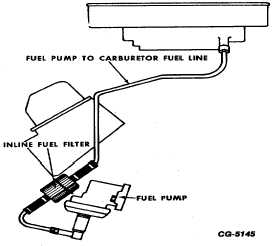 ENGINE DIVISION SERVICE MANUAL
TM 5-4210-230-14&P-1
d.
Reinstall cap onto distributor.
e.
Inspect   high   tension   ignition   cables   for   cracks   or
deterioration and replace defective cables.
4.  Replace all Spark Plugs, Check Required Voltage and
Replace any Defective Plugs.
a.
Remove used spark plugs.
b.
Check gap of new spark plugs (see Emission Control
System  Tune-Up  Specifications)  and  adjust  gap,  if
necessary.
Continuous  light  load  operation  may  produce  spark
plug fouling, necessitating more frequent spark plug changes
than are indicated in the Maintenance Intervals.  A change in
plug heat range will not correct fouling under these conditions.
To change spark plug gap, bend the outer electrode;
never  bend  the  center  electrode.    Be  accurate  use  a  round
wire gauge to check the electrode gap.  Check the gap of new
spark plugs before installation and tighten to specified torque.
Fig.  5
IH  Branches  and  Dealers  are  equipped  with  spark
plug
cleaning
and
testing
equipment
which
renders
dependable service.
c.
Install  new  spark  plugs  and  torque  to  specifications
(see
Emission
Control
System
Tune-Up
Specifications.
d.
Install high tension spark plug cables onto spark plug
terminal.
IMPORTANT
When  replacing  high  tension  spark  plug  cables,  be  sure
cables  are  routed  to  proper  spark  plugs  (refer  to  firing
order cast into intake manifold).
e.
Connect   Tune-Up   Scope   Tester   No.   SE-2440,   or
equivalent.
f.
Start    and    operate    engine    until    normal    operating
temperatures  are  reached.    Then  operate  engine  at
1000 RPM.
g.
Observe    required    voltage    (see    Emission    Control
System Tune-Up Specifications).
h.
If   required   voltage   is   out   of   specifications   on   any
cylinder,   replace   spark   plug   and   repeat   Steps   a
through g.
5.  Replace Fuel Filter.
Inline  fuel  filters  are  used  on  most  IH  engines  (Fig.
6).  This type of filter is inexpensive and easy to replace when
needed.
Fig.  6  Inline Fuel Filter Typical on Most Gasoline Engines
6.  Clean or Replace Air Cleaner Filter.
a.
Dry  Type  -  Remove  air  cleaner  element,  clean  any
accumulation  of  dirt  from  air  cleaner  housing.    Tap
element   lightly   on   a   flat   surface   or   use   low   air
pressure   to   remove   dirt   particles.      Blow   air   from
inside filter element
CGES-215  Page 8
PRINTED IN UNITED STATES OF AMERICA