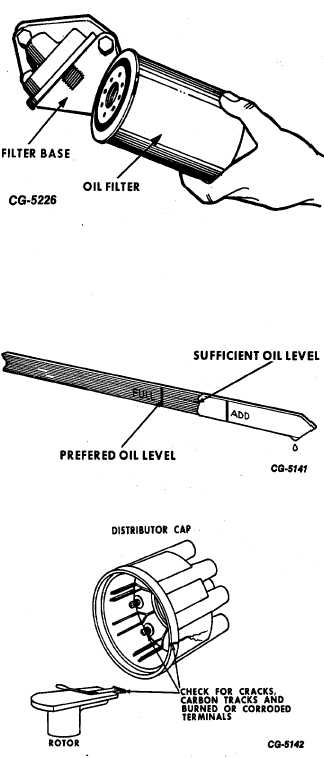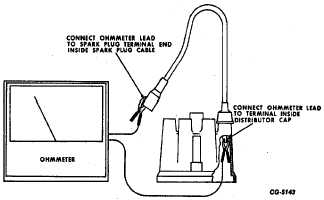 ENGINE DIVISION SERVICE MANUAL
TM 5-4210-230-14&P-1
Fig.  3  Inspect Distributor Cap and Rotor
2.
Check  and  Clean  Distributor  Cap  and  Rotor  or
Replace,  If  necessary.    Replace  Breaker  Points
and Condenser, where used.
a.
Remove distributor cap and rotor.
b.
Clean    and    inspect    distributor    cap    and    rotor    for
cracks,    carbon    tracks    and    burned    or    corroded
terminals.
c.
Replace  breaker  points,  where  used.    See  Tune-Up
Specifications for gap or dwell.  Lubricate Distributor
cam.
d.
Replace rotor, if defective, and install in distributor.
e.
Replace  cap,  if  defective,  and  connect  high  tension
cables to cap.
3.
Check   Ignition   Cable   and   Measure   Resistance
and Replace, if necessary.
a.
Remove high tension cables from spark plugs.
b.
Using  Engine  Performance  Tester  No.    SE-2576  or
equivalent,   measure   resistance   of   each   cable   by
connecting   ohmmeter   leads   to   spark   plug   end   of
cable and terminal inside distributor cap.
Fig.  4  Checking Ignition Cables With Ohmmeter
c.
If   resistance   exceeds   specifications   (see   Emission
Control    System    Tune-Up    Specifications),    replace
high tension cable(s).
CGES-215  Page 7
PRINTED IN UNITED STATES OF AMERICA
Fig.  1  Typical Spin-On Type Oil
Filter
Fig.  2  Proper Oil Level