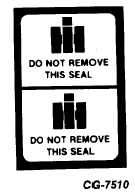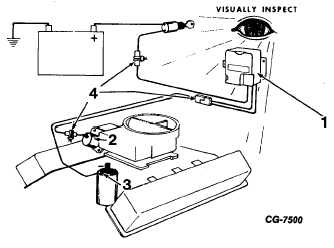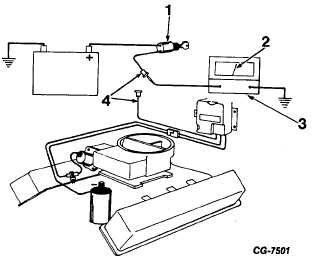 ENGINE DIVISION SERVICE MANUAL
TM 5-4210-230-14&P-1
TROUBLE SHOOTING
ELECTRONIC VACUUM MODULATING (EVM) GOVERNOR
SYSTEM TROUBLE SHOOTING PROCEDURE
The following procedure presents a       J systematic
method   of   diagnosing   and   trouble   shooting   the   Electronic
Vacuum  Modulating  (EVM)  Governor  System.    Each  trouble
shooting   step   has   a   chart   to   locate   the   component   and
illustrate  the  test.    Test  instruments  used  consist  of  a  volt-
meter and a tachometer.
It   is   recommended   that   the   tachometer   used   for
testing governor no load speed be an instrument with a high
percentage of accuracy.  The governed no load speed should
be within a 100 RPM tolerance.
If engine speed reading is more than 100 RPM high
or  lower  than  the  specified  governed  no  load  speed,  make
sure the tachometer being used has been properly calibrated
before condemning the ECU or vacuum solenoid valve.
Figure 61 Anti Tamper Proof Seal
Electrical connections on the EVM system are sealed
with  an  anti-tamper  proof  seal  tape  which  is  placed  on  the
connectors at the time of assembly.  The production seal tape
can  be  identified  by  its  white  color  with  black  print.    If  the
connector   seal   tape   is   tampered   with   the   word   VOID   will
appear.
After   service   is   performed,   a   service   anti-tamper
proof  tape  which  is  white  in  color  with  red  print  should  be
installed.    This  difference  in  print  color  will  show  the  system
has been serviced.
1.    Visually  inspect  condition  of  wiring  connections  and
components.
2.    Disconnect   wire   at   electronic   control   unit   (ECU).
Check  for  battery  voltage  with  ignition  turned  on.    If
battery voltage is not found, refer to Service Manual,
ELECTRICAL, for repair.  If battery voltage is found,
proceed to Step 3.
Figure 62. Step 1
1.  Electronic Control Unit (ECU)
2.  Solenoid Vacuum Valve
3.  Ignition Coil
4.  Cable Connections Figure
Figure 63. Step 2
1.  Ignition Switch "ON"
2.  Battery Voltage
3.  Volt Meter
4.  Battery Source to ECU Cable
3.  
Disconnect ECU signal cable at terminal
connector as shown.
a.     Check  continuity  of  cable  from  negative  side
of  coil  to  ECU  end.    If  reading  indicates  an
open circuit, replace cable.
CGES-125-T Page 41
ENGINE DIVISION SERVICE MANUAL
TM 5-4210-230-14&P-1