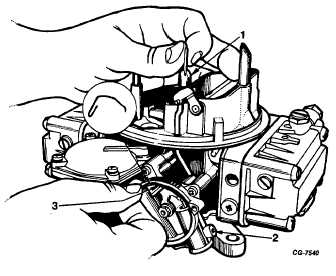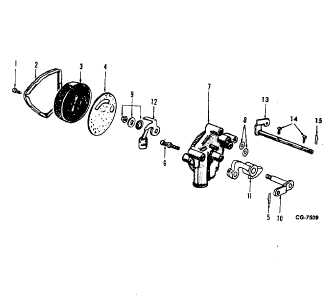 Figure 59. Checking Choke Qualifying Dimension
1.  Specified Drill or Gauge Size
2.  Adjusting Screw
3.  Paper Clip
condition,  hold  accelerator  to  floor  (do  not  pump  accelerator
until engine starts).
Service of the automatic choke carburetor is identical
to the hand choke model with the following exceptions:
The    choke    cover    should    not    be    immersed    in
carburetor cleaner.  It can be rinsed in solvent or fuel
and  carefully  blown  out.    The  bimetal  spring  should
not be bent, stretched or tampered with.
New     gaskets     must     be     installed     between     the
carburetor body and choke housing.
If   for   some   reason   a   richer   or   leaner   mixture   during   the
warmup  period  is  desired,  it  can  be  obtained  by  rotating  the
thermostat  cover.    Never  set  the  index  mark  on  the  cover
more than two graduations off the specified settings.
Figure 60 Exploded View of Automatic Choke Assembly
Legend for Fig.  66 Key Description
1
SCREW, Fil.  Hd.  No.  BNC x 7/16
2
CLAMP, Thermostat Housing
3
HOUSING, Thermostat Assembly
4
GASKET, Thermostat Housing
5
PIN, Choke Rod Retainer
6
SCREW, Choke Housing WASHER, Lock,    Choke
Housing
7
HOUSING, Choke Assembly
8
GASKET, Choke Housing WASHER, Lock,  Internal
Tooth (No.  8)
9  
NUT, Choke Shaft SPACER, Choke Thermostat
Lever
10
ASSEMBLY, Shaft and Lever
11
CAM, Fast Idle
12
LEVER, Thermostat with LINK
13
SHAFT, Carburetor Choke
14
SCREWS, Choke Plate
15
RETAINER, Choke Rod
CGES-125-T Page 40
PRINTED IN UNITED STATES OF AMERICA