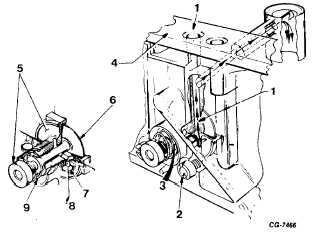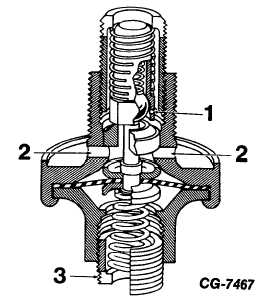 ENGINE DIVISION SERVICE MANUAL
TM 5-4210-230-14&P-1
GENERAL
Power Enrichment System
The  enriched  air/fuel  mixture  required  under  heavy  load
conditions is provided by a supplementary fuel metering system
and  the  power  valve  which  is  controlled  by  manifold  vacuum.
Since   manifold   vacuum   is   proportional   to   engine   load,   the
enrichment  can  be  triggered  at  any  required  point  in  the  load
range.    Some  versions  of  this  carburetor  contain  a  two-stage
power valve which can be calibrated to enrich the air/fuel ratio
in  two  increments  in  the  load  range  in  order  to  provide  more
precise   calibration   where   required   for   emission   control   (Fig.
10).
The   power   valve   in   this   carburetor   is   a   diaphragm
actuated,  spring  loaded  conical  valve  normally  closed  under
high manifold vacuum conditions (cruise or idle) by the force of
the   vacuum   acting   on   the   diaphragm.      When   the   manifold
vacuum  is  reduced  to  a  given  level  (acceleration  or  load),  the
spring force will open the valve, providing a path for fuel to flow
from  the  fuel  bowl  to  the  main  metering  well,  bypassing  the
main metering jet.  As engine load decreases, manifold vacuum
increases    and    the    valve    returns    to    the    closed    position,
eliminating the supplementary fuel.
Figure 10  Power Enrichment Fuel Air Flow
1.  Main Well
6.  Power Valve Diaphragm
2.  Main Jet
7.  Main Well
3.  Fuel Flow
8.  Channel Restriction
4.  Metering Body
9.  Spring
5.  Power Valve Assembly
Two-Stage Power Valve
The added supply of fuel necessary for high speed or full
power    operation    is    delivered    by    a    fully    automatic    power
enrichment   system.      Manifold   vacuum   on   the   power   valve
diaphragm actuates the power enrichment system.
To   provide   a   leaner   light   load   and   light   part-throttle
operation, a twostage diaphragm-actuated power valve is used
in some model series carburetors (Fig. 11).
During  light  load  and  light  part  throttle  operation  where
manifold vacuum drops to a pre-determined level, the first stage
of the power valve opens and enriches the mixture slightly.  As
manifold vacuum decreases on acceleration or steeper grades,
the second stage opens, providing full power enrichment.  The
two  stage  power  valve  is  serviced  as  an  assembly  and  is  not
adjustable in the field.
Figure 11  Two-Stage Power Valve
1.  First Stage Orifice
2.  Main Passage
3.  Main Stage
Power Valve Modulator
The power valve modulator is incorporated in the power
valve  vacuum  system  to  ensure  fuel  enrichment  during  high
speed,   wide   open   throttle   operation.      As   wide   open   throttle
engine  speed  approaches  the  maximum  engine  RPM,  intake
manifold  vacuum  may  rise  to  a  level  sufficient  to  close  the
second stage of the power valve, thereby reducing fuel flow and
engine power.  The power valve modulator system is designed
to bleed off power valve
CGES-125-T  Page 8
PRINTED IN UNITED STATES OF AMERICA