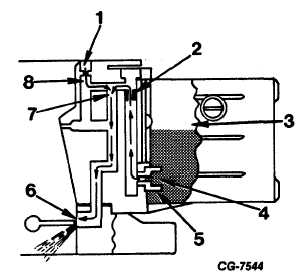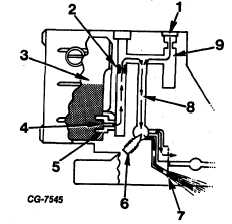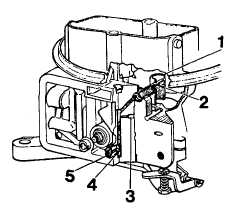 ENGINE DIVISION SERVICE MANUAL
TM 5-4210-230-14&P-1
GENERAL
Figure 7  Idle System Fuel Air Flow
Primary Side
1.  Idle Air Bleed
5.  Main Jet
2.  Idle Feed Restriction
6.  Idle Discharge Slot
3.  Fuel Bowl
7.  Fuel/Air Flow
4.  Fuel Flow
8.  Air Flow
discharged   through   the   idle   discharge   hole   into   the   throttle
bores below the secondary throttle plates.  As the throttle plates
are opened fuel-air is discharged into the throttle bores from the
idle transfer slots.  (Fig.  8)
Figure 8  Idle System Fuel Air Flow
Secondary Side
1.  Idle Air Bleed
6.  Idle Adjusting Needle
2.  Idle Feed Restriction
7.  Idle Discharge Hole
3.  Fuel Bowl
8.  Fuel/Air Flow
4.  Fuel Flow
9.  Air Flow
5.  Main Jet
Main Metering System
As  the  throttle  plates  open  in  response  to  speed  and/or
load  demand,  the  air  flow  through  the  carburetor  main  venturi
increases  in  velocity,  inducing  an  increased  depression  on  the
main metering system, causing air/fuel mixture to flow from the
main discharge nozzle.  The flow from the idle system gradually
decreases  and  reverses  as  the  carburetor  approaches  a  wide
open throttle condition (Fig.  9).
In the main metering system, the fuel flows from the fuel
bowl  through  the  main  metering  jet  which  meters  the  fuel  into
the  main  well.    The  fuel  mixes  with  air  inducted  through  the
main well air bleed in the side of the well.  The emulsion created
then  passes  through  the  discharge  channel  and  is  discharged
into the carburetor venturi by the discharge nozzle.
Figure 9  Main Metering Fuel Air Flow
1.  Booster Venturi
5.  Main Jet
2.  Discharge Nozzle
6.  High Speed Air Bleed
3.  Main Well Air Bleed
7.  Booster Venturi
4.  Main Well
CGES-125-T  Page 7
PRINTED IN UNITED STATES OF AMERICA