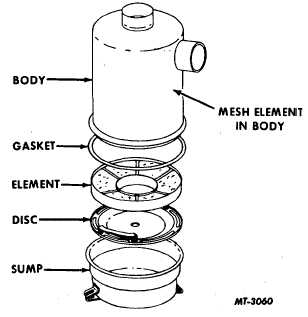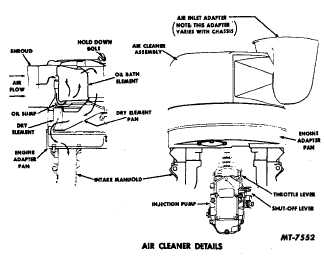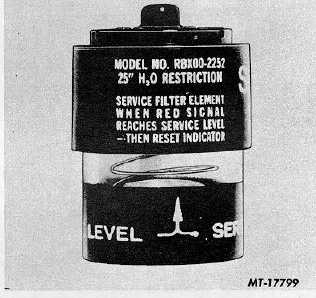 TRUCK SERVICE MANUAL
TM 5-4210-230-14&P-1
FRAMES
Fig.  7  Typical Oil Bath Air Cleaner
Combination
Oil
Bath
and
Dry
Type
Air
Cleaner
The  combination  oil  bath  and  dry  type  air  cleaner  is  a
two-stage  air  cleaner.    Air  entering  the  air  cleaner  first  flows
through  an  oil  bath  type  air  cleaner  and  then  through  a  dry
type element before entering the engine.  Fig.  8 illustrates a
typical  combination  oil  bath  and  dry  type  air  cleaner  with  an
adapter arrangement.
Fig.  8  Typical Combination Oil Bath And Dry Type Air Cleaner
Air
Cleaner
Restriction
Indicators
Air cleaner restriction indicators used in conjunction with
dry  type  air  cleaners  perform  the  function  which  their  name
implies.    Actuated  directly  by  a  pressure  drop  between  air
cleaner  and  engine,  restriction  indicators  show  when  an  air
cleaner element has reached maximum allowable restriction.
The  restriction  indicator  shown  in  Fig.    9  contains  a  red
signal band located in the indicator housing above the window
and  is  not  visible  when  engine  is  stopped  if  air  cleaner  does
not require servicing.
Fig.  9  Air Cleaner Restriction Indicator
After  starting  the  engine,  the  band  may  drop  sufficiently
to   be   seen   in   upper   part   of   window.     

This

  

must

  

not

  

be
mistaken
as
a
signal
for
element
service
.
During operation, the red signal band will gradually drop
in  window  as  dirt  accumulates  in  filter  element.    When  filter
element  reaches  the  maximum  allowable  restriction,  the  red
band reaches the bottom of window and automatically locks in
this  position.    The  band  will  remain  fully  exposed  even  after
stopping   the   engine.      When   this   happens,   filter   element
service is required.
CTS-2056N  Page 4
PRINTED IN UNITED STATES OF AMERICA