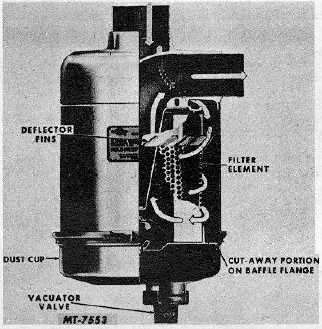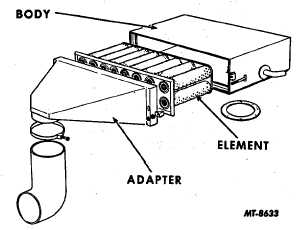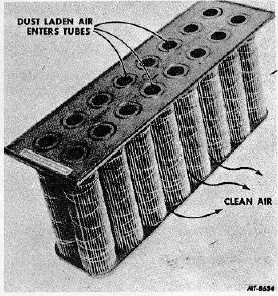 TRUCK SERVICE MANUAL
TM 5-4210-230-14&P-1
FRAMES
Fig.  3  Typical Dry Type Air Cleaner
Fig.  4  Typical Dry Type Air Cleaner (Box Type)
The box dry type air cleaner shown in Fig.  4 differs from
the  other  dry  type  air  cleaners  illustrated,  in  that  air  passes
through  the  air  cleaner  element  from  inside  to  outside  (Fig.
5).
Oil
Bath
Air
Cleaner
All oil bath air cleaners, regardless of size or shape (see
Figs.  6 and 7), clean air in the following manner.  Uncleaned
air is drawn through the upper
Fig.  5  Box Type Dry Air Cleaner Element
Fig.  6  Typical Oil Bath Air Cleaner
portion  of  the  unit  and  then  downward  at  high  velocity.   Just
above   the   oil   reservoir,   in   the   bottom   of   the   cleaner,   the
direction of air travel is suddenly reversed.  This reversal of air
flow causes the larger particles of dirt to fall into the oil.  The
partially   cleaned   air   then   travels   upward   through   an   oil
moistened filtering element where any remaining dirt and dust
particles   are   removed.      The   cleaned   air   then   enters   the
carburetor.
CTS-2056N  Page 3
PRINTED IN UNITED STATES OF AMERICA