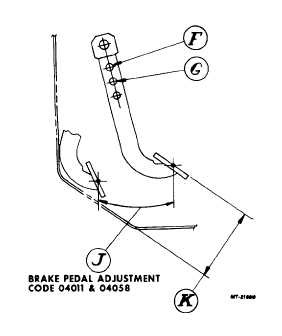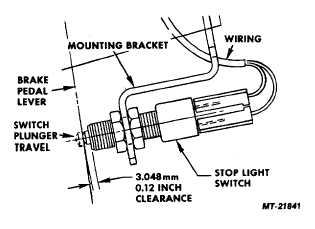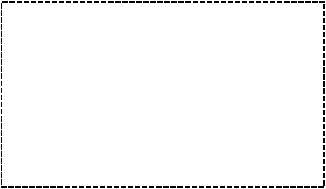 TM 5-4210-230-14&P-1
VEHICLE MAINTENANCE
BRAKE PEDAL ADJUSTMENT Single
Hydraulic System (Codes 04011 & 04058)
Reference letters for brake pedal adjustment.
F.
Use this hole to attach clevis
to pedal on 4x2 & 4x4 vehicles.
G.
Use this hole to attach clevis
to pedal on 6x4 vehicles.
Brake pedal should have pedal
stroke "J" after pedal stop has
been adjusted to obtain pedal
height "K".
J.
226 mm  (8.9")
4x2 & 4x4
vehicles
230 mm  (9.1")
6x4 vehicles
K.
201.5 mm  (7.9")
4x2 & 4x4
vehicles
206 mm  (8.1")
6x4 vehicles
SPLIT HYDRAULIC SYSTEM
(Codes 04044, 04055 and 04059)
The  brake  pedal  adjustment  is  at  the  booster  control
valve (push rod) and clevis.  Proper pedal height (travel) will
be  obtained  when  the  clevis  is  adjusted  to  177.8  mm  (7")
between booster mounting surface and clevis center opening.
MASTER CYLINDER (Brake)
Fluid level should be 6.4 to 12.7 mm (1/4 to 1/2") from
top  of  reservoir.    Do  not  fill  the  master  cylinder  to  the  top  of
reservoir.
STOPLIGHT SWITCH ADJUSTMENT
The   stoplight   switch   should   be   adjusted   so   that   the
clearance  between  the  switch  body  (not  plunger)  and  pedal
lever  is  3.048  mm  (0.12"),  when  the  brake  pedal  has  been
properly adjusted
SPECIAL FLUID PRECAUTIONS
CAUTION
The
Hy-Power
and
Dual
Power
Brake
Systems  consist  of  two  completely  separate
hydraulic systems operating with two different
and  incompatible  fluids;  power  steering  fluid
and  hydraulic  brake  fluid.    Failure  to  observe
precautions  preventing  the  contamination  of
either   system   with   fluid   from   the   other   will
result   in   the   swelling   and   deterioration   of
rubber
parts
leading
to
reduced
brake
performance and eventual failure.
To  avoid  fluid  contamination,  the  following  should  be
observed:
1.
Use  only  fluids  specified  (or  equivalent),  and  properly
identified.
2.
Add fluids only to the following locations:
a.
Power steering fluid to the power steering fluid pump
reservoir.
b.
Brake fluid to the brake master cylinder.
4