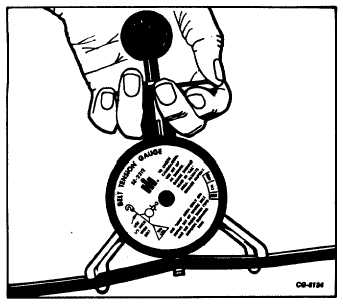 ENGINE DIVISION SERVICE MANUAL
TM 5-4210-230-14&P-1
ENGINE
Fig. 156 Testing Alternator Belts Using SE-2312 Gauge
To  establish  tension  of  a  loose  belt,  apply  SE-2312
gauge to the belt and make the adjustment.  Tighten belt until
proper area for the belt is indicated at the index mark on the
gauge.        Lock    the    adjustment    and    recheck    belt    tension.
Readjust as necessary.
When     using     the     SE-2312     belt     tension     guage,
remember  to  set  new  belts  (belt  with  less  than  two  minutes
running  time)  to  the  NEW  area  on  the  gauge  face  and  used
belts (more than two minutes running time) to the USED area
on the gauge.
NOTE:  Where  the  SE-2312  belt  tension  gauge  is
not   available   or   cannot   be   used   because   of
interference    with    fan    shroud,    accessories    or
close    clearances,    a    deflection    check    can    be
made.      Depress   the   belt   at   a   point   midway
between  the  water  pump  and  alternator  pulleys.
One-half     inch     (2")     deflection     is     considered
acceptable  as  a  final  setting  after  the  belt  has
been operated for a short period of time.
The  air  or  freon  compressor  and  power  steering  or
air pump belts are adjusted in a similar manner.
CGES-210  Page 65
PRINTED IN UNITED STATES OF AMERICA