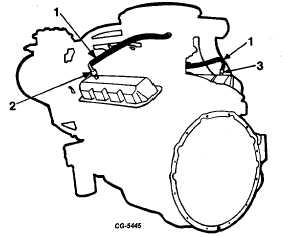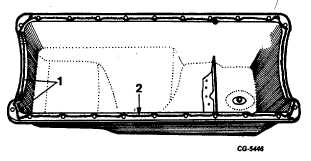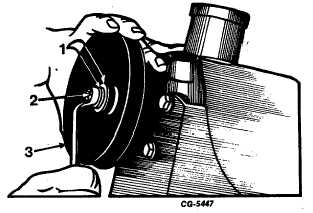 ENGINE DIVISION SERVICE MANUAL
TM 5-4210-230-14&P-1
ENGINE
50.   Install   fuel   line   with   filter   between   the   fuel   pump   and
carburetor.  Secure fuel line bracket to right cylinder head
cover with screws and washer.
51.   Install flame arrestor and hose to left cylinder head cover,
Figure 153.  Install opposite end of hose to air cleaner after its
installation.
Fig.   153   Flame   Arrestor   and   Crankcase   Ventilator   Valve
Installation
1.  Hose
2.  Flamearrestor
3.  Crankcase ventilator valve
52.   Install  crankcase  ventilator  valve  in  right  cylinder  head
cover   and   connect   hose   to   valve   and   tube   fitting   in
carburetor, Figure 153.
53.   Install  engine  water  inlet  and  gasket  with  two  bolts  and
lockwashers.
54.   Install   oil   pan   on   crankcase   using   the  liquid   gasket
material, Figure 154.
NOTE:    Caution    should    be    taken    not    to    apply
excessive   amounts   which   could   contaminate   the
engine oil.
55.   Install oil filter and cooler with gasket, if so equipped, to
the crankcase.  Also install air compressor oil feed line to
crankcase.  Refer to Figure 27 for location.
NOTE:  If  the  vehicle  is  not  equipped  with  an  oil  cooler,
install filter base and filter with gasket.
56.   Place  the  starting  motor  into  the  flywheel  housing  and
secure with two bolts and lockwashers.
Fig. 154 Application of Liquid Gasket Material on Oil Pan
1.  1/8" bead at corners and both ends
2.  1/16" bead on both sides
57.   Install    power    steering    pump    bracket    and    adjusting
bracket.  Refer to Figure 25.
58.   Loosely  install  power  steering  pump  with  side  bracket  to
pump mounting bracket.
59.   Place  power  steering  pump  pulley  on  shaft  aligning  the
pulley with the keyway and tap gently with a soft hammer.
Use  a  5/16"  x  18"  x  1-1/4"  long  bolt  and  washers  to  pull
the pulley against the shoulder of the pump, Figure 155.
Then   replace   the   long   bolt   with   the   shorter   bolt   and
tighten to specified torque.
Fig.  155  Pulling  Power  Steering  Pulley  Against  Shoulder  of
Pump
1.  Washers
3.  Pulley
2.  Bolt
CGES-210  Page 63
PRINTED IN UNITED STATES OF AMERICA