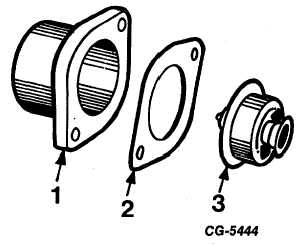 ENGINE DIVISION SERVICE MANUAL
TM 5-4210-230-14&P-1
ENGINE
NOTE: Do not install screw and washer that secures
the fuel line bracket to the right cylinder head cover
at   this   time.      However,   insure   that   cable   support
brackets are installed.
34.   Install engine oil level gauge assembly.
35.   Install the spark plugs in the cylinder head and tighten to
specified torque.  See "Torque Chart."
36.   Position left exhaust manifold and gasket to cylinder head
and   install   bolts   and   lock   tab   washers.      Tighten   to
specified  torque.    See  "Torque  Chart."  Bend  lock  tabs
against bolt head.
37.   Repeat  Step  36  for  installation  of  the  opposite  exhaust
manifold with gasket and manifold heat shroud.
38.   Install   air   manifold   check   valves   in   their   respective
cylinder heads.
39.   Install  thermostat  in  crankcase  and  place  engine  water
outlet  gasket  on  crankcase,  Figure  152.    Then  secure
engine   water   outlet   to   crankcase   with   two   bolts   and
lockwashers  according  to  specified  torque.    See  "Torque
Chart."
Fig. 152 Exploded View of Thermostat, Gasket and
Engine Water Outlet
1.  Engine water outlet
2.  Gasket
3.  Thermostat
40.   Install water temperature sender in top front of crankcase.
Refer to Figure 34 in "Engine Disassembly."
41.   Install  low  temperature  vacuum  control  valve,  exhaust
gas recirculating valve and gasket, if so equipped.
NOTE: If not equipped with these valves, install cover
plate  and  gasket  on  intake  manifold  and  plug  from
crankcase if removed.
42.   Install the ignition coil and bracket on the mounting boss
provided on the intake manifold securing the bracket with
bolts and lockwashers.
43.   Install carburetor return spring bracket on intake manifold
with  bolt  and  flatwasher.    Refer  to  Figure  29  in  "Engine
Disassembly."
44.   Install carburetor with two gaskets and spacer plate over
studs in intake manifold.  Secure with nuts and washers.
Attach   return   spring   between   carburetor   and   bracket
installed in Step 43.
45.   Install  the  distributor  assembly  with  clamp,  hold-down
bolt, lockwasher and "O"-ring in crankcase.
46.   Install vacuum line and governor line from the distributor
to the carburetor connections.
NOTE:    Insure    governor    line    is    sealed    at    both
connections.
47.   Install all cable brackets for high tension lines.
48.   Install  distributor  cap  and  thread  the  cables  through  the
cable  support  brackets  to  their  respective  spark  plugs.
Connect the high tension cable from the distributor to the
coil.
49.   Install  fuel  pump  with  gasket  to  the  crankcase  with  two
bolts and hardened washers.
NOTE: When installing the fuel pump mounting bolts,
it is necessary to tighten the bolts evenly.  If they are
not  installed  evenly  the  operating  arm  on  the  fuel
pump  will  not  be  in  correct  position  with  the  fuel
pump cam on camshaft.
CGES-210  Page 62
PRINTED IN UNITED STATES OF AMERICA