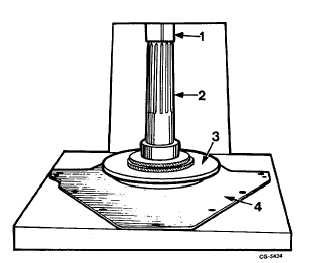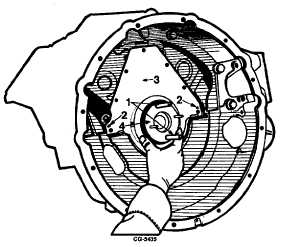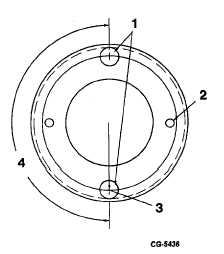 ENGINE DIVISION SERVICE MANUAL
TM 5-4210-230-14&P-1
ENGINE
Apply the same procedure to the remaining bearing caps.
Recheck    the    crankshaft    end    play    as    outlined    under
"Fitting Main Bearings."
8.
Install  flywheel  housing  on  crankcase.  Torque  bolts  to
specified torque.  See "Torque Chart." Install oil pressure
sending unit.
9.
Press crankshaft rear oil seal into retainer plate using SE-
1905 installer and 5-1/4" O.D.  adapter, Figure 142. The
seal  must  be  installed  from  the  crankcase  side  of  the
retainer flush with the seal bore inner surface.
Fig. 142 Pressing Rear Oil Seal into Retaining Plate Using SE-
1905 Installer with 5-1/4" O.D.  Adapter
1.  Press ram
3.  Adapter
2.  Installer
4.  Retainer
NOTE:

 

Wipe  inside  of  retainer  plate  clean  to  insure  a
proper fit.
10.   Use  SE-1942-2  Pilot  to  install  rear  oil  seal  and  retainer
with  gasket  on  crankcase,  Figure  143.    Dowel  pins  are
provided for proper alignment.  Torque bolts to specified
torque.  See "Torque Chart."
NOTE:

Drill two 25/64" diameter holes in SE-1942-2 Pilot
according to the dimensions on Figure 144 to accept two
3/8" diameter x 4" pilot studs.  The pilot studs serve as a
safety measure to retain the pilot on the crankshaft where
seal replacement is performed with engine in the vehicle.
Fig. 143 Installing Retainer with Rear Oil Seal Using
SE-1942-2 Pilot
1.  Pilot studs
3.  Retainer
2.  Dowel pins
4.  Pilot
Fig. 144 Dimensions for Rework of SE-1942-2 Pilot
1.  25/64" dia.  holes
2.  Existing guide pin holes
3.  1.59375R
4.  180°
11.   Rotate the crankshaft and camshaft to determine that the
gears  do  not  bind  or  interfere.    With  the  use  of  a  dial
indicator,     Figure     145,     check     the     backlash.          See
"Specifications" for backlash.
CGES-210  Page 58
PRINTED IN UNITED STATES OF AMERICA