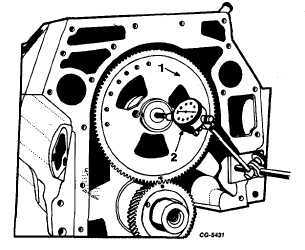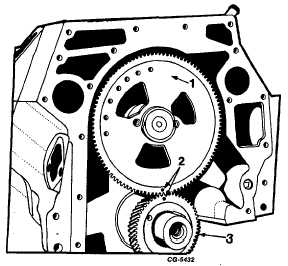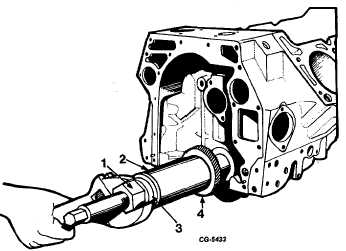 ENGINE DIVISION SERVICE MANUAL
TM 5-4210-230-14&P-1
ENGINE
Fig. 139 Checking Camshaft End Play
1.  Camshaft gear
2.  Dial indicator
6.
Wipe the backs of the cylinder block half of the bearings,
making sure the dirt is removed.  Lubricate the block half
of  the  bearings  on  both  sides  with  a  light  film  of  engine
oil.  Place the bearing shell halves in position in the bore
of the cylinder block, making sure the bearing shells are
fully seated, the oil holes in the bearing shells line up with
the oil holes in the cylinder block and the locking tangs on
the   bearings   fit   into   the   recesses.   Follow   the   same
procedure   and   place   the   bearing   shell   halves   in   the
bearing caps.  Place a film of engine oil on both sides of
the shell surfaces and
Fig. 140 Aligning Timing Marks on Camshaft and Crank- shaft
Gears
1.
Camshaft gear
2.
Timing marks
3.
Crankshaft gear
install  the  crankshaft,  aligning  itself  in  the  bearing  while,
at  the  same  time,  aligning  the  timing  marks  of  both  the
camshaft and crankshaft gears, Figure 140
NOTE:

 

If  crankshaft  gear  has  been  removed,  it  may  be
installed with the crankshaft in the engine using SE-1900
Installer,  with  SE-1900-18  Adapter  and  thrust  bearing  to
reduce friction, Figure 141.
7.
Place the bearing caps and bearing lower halves over the
crankshaft   journals.      Be   sure   the   bearing   caps   are
properly installed with the number toward the left side of
the crankcase and the arrow, pointing toward the front of
the  engine.    Use  new  selflocking  bolts  for  installing  the
bearing caps.  Finger tighten the bearing caps.  Using a
soft  hammer,  tap  the  number  1,  2  and  4  bearing  caps
until  the  rear  machined  faces  of  the  caps  are  flush  with
the machined faces of the crankcase.
Fig. 141 Installing Crankshaft Gear with SE-1900 Installer and
SE-1900-18 Adapter
1.  Nut
3.  Thrust bearing
2.  Sleeve
4.  Gear
Repeat  the  same  operation  for  bearing  cap  number  5  only
aligning  the  front  face  of  the  cap  with  the  crankcase.  The
number 3 bearing rear thrust flanges must be flush with each
other.  Aligning  caps  in  this  manner  will  assure  proper  cap
location.  Check this alignment at both sides (left and right) of
the bearing cap.  Torque the bolts to specified torque using a
tension wrench.  See "Torque Chart."
CGES-210  Page 57
PRINTED IN UNITED STATES OF AMERICA