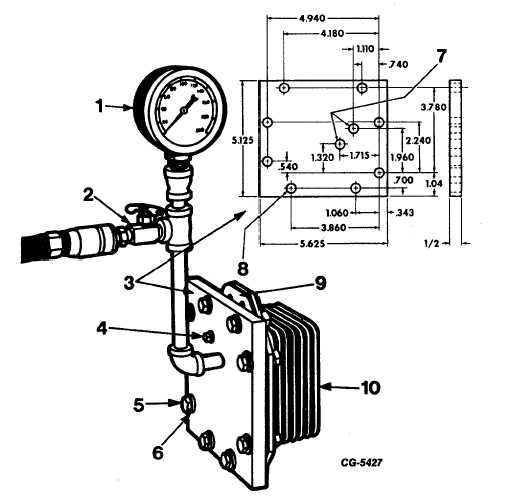 ENGINE DIVISION SERVICE MANUAL
TM 5-4210-230-14&P-1
ENGINE
1.
Attach      test   plate      and   gasket   to   core   assembly
mounting  face  flange  (Figure  134).    The  test  plate
must be made locally according to the dimensions in
the   insert   in   Figure   134.   Obtain   engine   oil   cooler
housing gasket from service parts stock.
NOTE:  The  oil  inlet  opening  in  the  cooler  core
assembly   is   located   in   one   of   two   locations.
Therefore,  the  test  plate  must  include  a  tapped
hole   for   either   location   to   permit   applying   air
pressure to the core.  Install test plate pipe plug
at oil inlet hole not in use.
2.
Install  pressure  gauge,  air  control  valve  and  quick
connect air coupler to test plate (Figure 134).  Apply
80 to 100 lbs.  of air pressurelt6 the core assembly.
3.
Immerse  oil  cooler  core  assembly  in  a  container  of
water.  If a leak is observed, replace core assembly.
CAUTION:

 

Use   adequate   safety   precautions   when
preforming pressure test.
Fig. 134 Pressure Testing Engine Oil Cooler Core Assembly
1.  Pressure gauge
6.  Flat washers - (16 required)
2.  Air control valve
7.  Drill & tap 1/8 PT THD.  this side two holes
3.  Test plate (make locally)
8.  .375 Dia.  - (8 holes)
4.  Pipe plug 1/8 NPT
9.  Gasket, oil cooler housing IH No.  446647-C1
5.  Hex head bolts 5/16 NC x 1% - (8 required)
10.  Core assembly, oil cooler
CGES-210  Page 54
PRINTED IN UNITED STATES OF AMERICA