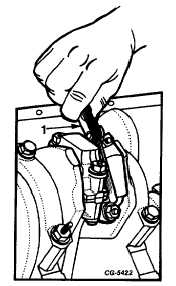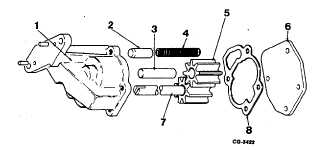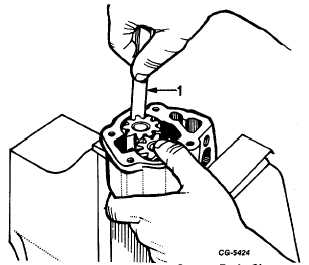 ENGINE DIVISION SERVICE MANUAL
TM 5-4210-230-14&P-1
ENGINE
Fig. 129 Checking Connecting Rod End Clearance
1.  Feeler gauge
Oil Pump Assembly
The oil pump, Figure 130 consists of two gears and a
pressure   relief   valve   enclosed   in   the   body.      The   pump   is
driven from the distributor drive gear which, in turn, is driven
by a helical gear on the camshaft.
Fig. 130 Exploded View of Oil Pump
1.  Body
5.  Idler gear
2.  Valve
6.  Cover
3.  Idler shaft
7.  Drive shaft and gear
4.  Spring
8.  Gasket
The   body   is   equipped   with   a   regulator   valve   that
limits oil pressure to approximately 50 psi.
The   pump   intake   is   through   a   screen   assembly
attached   to   the   pump   body.      A   mesh   screen   filters   out
particles of dirt which may be present.
A  thorough  cleaning  and  inspection  of  the  oil  pump
should  be  made  whenever  the  oil  pan  is  removed  from  the
engine.  The  recommended  inspection  and  repair  procedures
are as follows:
1.
Wash    all    pump    parts    and    screen    assembly    in
cleaning solvent.
2.
With  pump  cover  removed  and  gears  and  shaft  in
place,   exert   pressure   against   the   gears   with   the
thumb so as to push the gears away from the outlet
side of the pump.
3.
While holding the gears in this manner, measure the
clearance  between  the  outside  diameter  of  the  gear
and the bore of the housing, Figure 131.  Clearance
should be within the limits given in the specifications.
Fig. 131 Measure Pump Gear-to-Body Clearance
1.  Gauge
4.
If  clearance  is  less  than  specifications,  obtain  new
parts.
CGES-210  Page 52
PRINTED IN UNITED STATES OF AMERICA