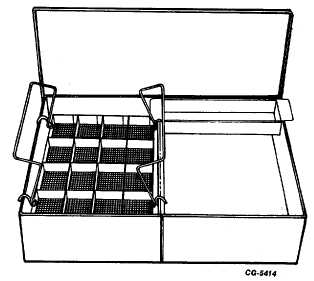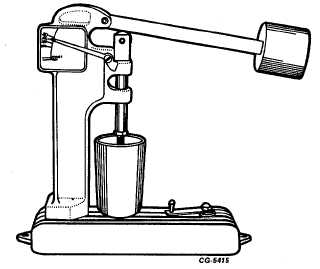 ENGINE DIVISION SERVICE MANUAL
TM 5-4210-230-14&P-1
ENGINE
After
removing
the
plunger,
the
check
valve
assembly  may  be  found  to  be  loose  on  the  plunger.    Care
should   be   taken   so   the   small,   flat   check   valve   and   valve
retainer spring are not lost.  If the check valve assembly stays
attached  to  the  plunger,  it  would  be  best  to  leave  it  in  this
position.
IV.
Servicing the Lifter
The   following   is   the   service   procedure   to   be   followed   in
servicing hydraulic lifters:
A
Immerse   the   unit   in   carburetor   or   other   suitable
solvent   to   remove   excess   engine   oil   and   soften
varnish deposits.
B.
To   avoid   mixing   plungers   and   cylinders,   take   one
lifter apart at a time and complete all servicing before
working   on   another.      However,   if   tray   SE-1892,
Figure   121,   is   available   for   keeping   plungers   and
cylinders
together,
all
lifters
may
then
be
disassembled at the same time.
Fig. 121  Hydraulic Lifter Tray SE-1892
C.
Wash all parts in solvent and clean all varnish from
the plunger and inside diameter of the cylinder.
D.
Inspect the plunger and cylinder walls for scratches.
Look  for  nicks  on  the  valve  seat  and  examine  the
condition  of  the  lifter  face.    Check  for  plugged  oil
holes.
E.
Try    the    plunger    for    free    fit    in    the    cylinder.    F.
Reassemble all parts in proper sequence Figure 120.
NOTE:
The valve lifter body is to be filled 1/3 full
with   clean   kerosene   before   assembly   of
component   parts.      The   parts   are   to   be
prelubricated  with  clean  kerosene  before
assembly.      Use   of   kerosene   in   place   of
engine oils provides a faster leakdown and
rapid  expelling  of  trapped  air  in  the  lifter
assembly,  thus  eliminating  the  possibility
of     damage     to     the     valve     train     when
installing  the  push  rods  and  rocker  arm
shaft  assembly.  Engine  oil  will  dilute  the
kerosene   in   the   lifters   as   soon   as   the
engine is operated for a short period.
G.
After the unit has been washed thoroughly, determine
whether the leakage past the plunger and cylinder is
correct and if the check valve is functioning correctly.
This  may  be  done  using  one  of  the  two  following
methods:
1.     The  SE-1893  leakdown  tester,    Figure  122,  may  be
used   for   checking   the   leakdown   rate   if   available.
Instructions  which  accompany  the  tester  should  be
followed.
Fig. 122  SE-1893 Tester Used for Checking Leakdown Rate
of Tappet
2.
If the leakdown tester is not available, a finger check
method can be used.  In order to check a unit in this
manner, make sure there is no lubricating oil on the
cylinder    or    plunger    such    as    immediately    after
washing  in  solvent.    With  the  cylinder  held  in  one
hand, start the
CGES-210  Page 47
PRINTED IN UNITED STATES OF AMERICA