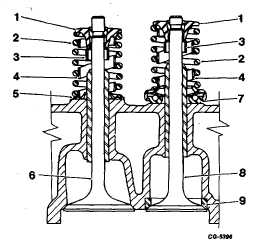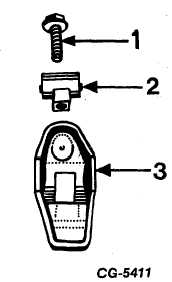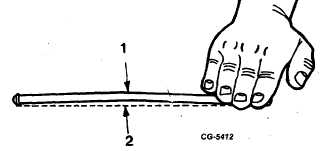 ENGINE DIVISION SERVICE MANUAL
TM 5-4210-230-14&P-1
ENGINE
spring retainer.  On the intake valves, install the valve spring
seat,   valve   stem   seal,   valve   spring,   damper   and   spring
retainer.
NOTE:
Care should be taken to see the valve stem
seals  are  installed  correctly.    If  they  are
not,  their  effectiveness  in  directing  oil  to
the  valve  guide  could  be  reduced,  Figure
117.    Notice  the  valve  stem  seal  is  under
the spring retainer.
Fig. 117 Cross Section of Intake and Exhaust Valves Installed
in Head
1.
Retainer
6.
Intake valve
2.
Spring
7.
Roto coil
3.
Seal
8.
Exhaust valve
4.
Damper
9.
Insert
5.
Seat
Compress   the   valve   springs   with   a   valve   spring
compressor  and  install  the  valve  spring  retainer  locks.    Be
sure the retainer and locks are correctly seated on all valves.
The cylinder head assembly complete with valves is
ready for installation on the cylinder block or crankcase.
Rocker Arm Assembly
Individually   mounted   rocker   arms   are   retained   by
flange  head  retaining  bolts  and  pivot  balls,  Figure  118.    All
parts must be retained in the same order as they were on the
engine.
Clean all parts with a good cleaning solvent and use
compressed  air  to  clean  out  the  oil  passages  in  the  rocker
arms.
Fig. 118
1.
Retaining bolt
3.
Rocker arm
2.
Pivot ball
Inspect   the   pivot   surface   of   each   rocker   arm   and
pivot  ball  and  replace  any  parts  which  are  scuffed,  pitted  or
excessively  worn.    Inspect  the  valve  stem  contact  surface  of
each rocker arm and replace any rocker arm which is deeply
pitted.    Inspect  the  rocker  arm  retaining  bolts  for  excessive
wear  or  looseness  in  the  cylinder  head:  replace  if  condition
exists.
Push Rods
The push rods are hollow and serve as oil galleries to
lubricate   each   individual   rocker   arm   assembly.      Prior   to
installation  the  push  rods  should  be  cleaned  thoroughly  and
inspected for wear and deposits which may restrict the flow of
oil to the rocker arm assemblies.
Check  all  valve  lifter  push  rods  for  straightness  by
rolling on a flat surface, Figure 119
Fig. 119 Checking Push Rod for Straightness
1.
Bent valve lifter rod
2.
Flat surface
CGES-210  Page 43
PRINTED IN UNITED STATES OF AMERICA