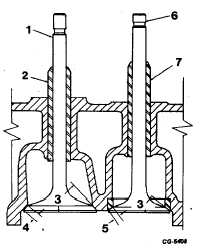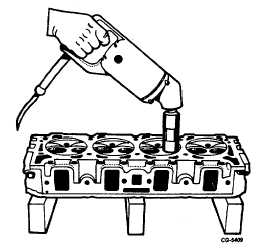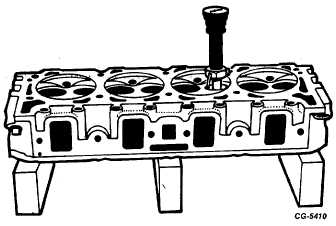 ENGINE DIVISION SERVICE MANUAL
TM 5-4210-230-14&P-1
ENGINE
will  be  necessary  to  grind  from  the  top  and/or  bottom  of  the
seat   until   the   proper   seat   width   is   obtained   using   grinder
SE1631, Figure 115.
Fig. 114 Sectional View of Valves
1.
Intake valve
2.
Intake valve guide
3.
Angle
4.
A
5.
B
6.
Exhaust valve
7.
Exhaust valve guide
Fig. 115 Grinding Seats Using SE-1631 Grinder
Use a 60

°
angle grinding stone to remove stock from
the bottom of the seat (raise seat).  Use a 30

°
angle stone to
remove stock from the top of the seat (lower seat).
After
the
seat
grinding
operation
has
been
performed, it is necessary to check the seat for run-out, Figure
116.      Seat   run-out   should   not   exceed   limits   as   shown   in
specifications.
Figure 116 Using Gauge from SE-1631 Tool Grinder Set for
Checking Seat Run-Out
It is important to have the finished seat face contact
the approximate center of the valve face.  Position the valves
in  the  cylinder  head.    Place  a  thin  coat  of  Prussian  Blue  on
each valve face and tap the valve lightly to its seat.
NOTE:
This is merely for test and proof of results
of  refacing  and  reseating  operations.    A
poor   grind   job   cannot   be   corrected   by
lapping.  Use of lapping compounds is not
recommended.        A    nearly    perfect    seat
often-times  is  destroyed  by  attempting  to
lap the valves to their seats.  Inspect each
valve  for  seat  dimensions  as  outlined  in
specifications   and   make   any   necessary
corrections.
The
corrections
should
always  be  made  on  the  seat  and  not  the
valve face.
NOTE:
New valves need not be refaced; however,
all valves should be carefully inspected for
damaged    seat    faces    or    for    a    run-out
condition  due  to  a  bent  valve  stem.    Use
SE-2614 tool to determine the condition of
the valve.
If the ends of the valve stems are grooved or scored,
they   may   be   ground   to   true   up;   however,   remove   only   a
minimum amount of material.  Rechamfer as necessary.
Wipe  valve  faces  and  valve  seats  with  a  cleaning
solvent to remove all dirt or foreign material.  Coat the valve
stems  and  faces  with  oil  and  install  the  valves  in  the  same
seats  to  which  they  were  checked.    On  the  exhaust  valves,
install   the   Roto-Cap   assembly,   valve   spring,   valve   stem
damper, valve stem seal and
CGES-210  Page 42
PRINTED IN UNITED STATES OF AMERICA