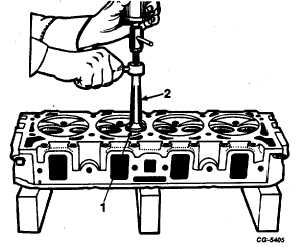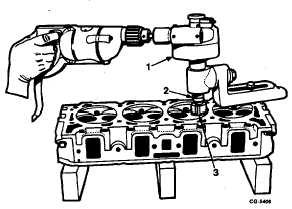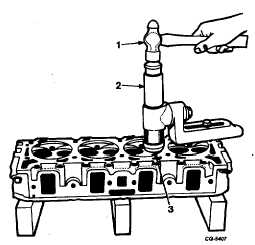 ENGINE DIVISION SERVICE MANUAL
TM 5-4210-230-14&P-1
ENGINE
Inspect the exhaust valve seat inserts for looseness,
burned   or   cracked   condition.      Use   SE-1951   valve   insert
remover, Figure 111, to remove defective inserts.  Position the
remover collet into the insert and turn the coned screw out to
expand  the  collet  jaws,  thus  providing  a  firm  grip  under  the
insert ring.  Use a slide hammer to remove the insert.
Fig. 111 Pulling Exhaust Valve Insert with SE-1951 Remover
1.
Exhaust valve insert
2.
Valve insert
remover
Prior  to  seat  reconditioning,  it  is  desirable  to  clean
the  seats  in  order  to  expose  any  cracks  or  other  conditions
likely to promote valve failure.  Such inspection is particularly
important in engines equipped with hard seat inserts; cracked
or loose inserts are not uncommon and are usually caused by
improper  installation.    Good  practice  requires  that  the  insert
counterbore  in  the  cylinder  head  be  machined  prior  to  insert
installation,  Figure  112.    Cutters  are  available  to  dress  both
the bottom and circumferential surfaces, but regardless of the
method,  the  bottom  of  the  counterbore  must  be  square  to
assure good seating of the insert.
Before  installing  inserts  they  should  be  thoroughly
chilled with dry ice or other means to facilitate their installation
in the cylinder head.  Use the installer tool, Figure 113, from
the counterbore tool set'SE-1797.  Valve seat inserts supplied
for   service   are   standard   size,   .015"   oversize   and   .030"
oversize.
Fig. 112
1.
Cutter drive unit
2.
Drive shaft
3.
Cutter
Fig. 113 Using Insert Installer from Counterbore Tool Set SE-
1797 for Installing Inserts in Cylinder Head
1.
Hammer
3.
Seat
2.
Driver
The  valve  seats  "A"  and  "B"  in  the  cylinder  head,
Figure 114, must also be ground true to the angles and width
shown in the specifications section.  If the seat is wider than
specified, it
CGES-210  Page 41
PRINTED IN UNITED STATES OF AMERICA