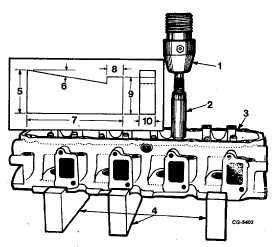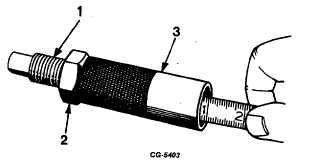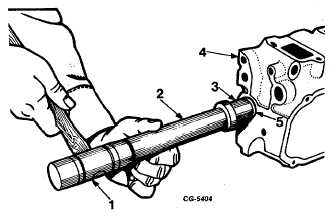 ENGINE DIVISION SERVICE MANUAL
TM 5-4210-230-14&P-1
ENGINE
Remove all guides that exceed wear limitations using
SE-1722 valve guide remover.  All guides must be driven from
the combustion chamber side through the top of the head as
shown in Figure 107.
NOTE:
Support  blocks  used  for  removing  valve
guides should be 9" long x 3-5/8" high x 1-
5/8"   thick   rectangular   hardwood   blocks.
These    blocks    should    not    be    used    for
installation of valve guides.
Turn  the  cylinder  head  over  with  the  top  side  up  on
the  wood  support  blocks  positioned  in  the  press.    Install  the
valve guides from the top side of the cylinder head using SE-
1943 valve guide installer, Figure 109.  The tool is designed to
install   both   valve   guides.      This   can   be   accomplished   by
adjusting  the  installer  screw  in  the  body  to  a  depth  that  is
equivalent   to   the   specified   height   that   guides   are   to   be
installed above the head. Figure 109 illustrates the method to
be used when adjusting the installer for specified guide height.
Press the guides in until the installer rests firmly on top of the
cylinder head, thus maintaining proper spacing.
NOTE:
Guides
should
be
lubricated
with
a
mixture  of  light  engine  oil  and  white  lead
upon  installation.  Clean  away  any  excess
lubricants.
Fig. 108 Installing Valve Guides with SE-1943 Installer and
Adaptor
1.
Press m
6.
9

°
2.
Installer
7.
9"
3.
Cylinder head
8.
11/2
4.
Support Blocks
9.
31/2"
5.
4 1/8
10.   11/2"
NOTE:
Support  blocks  for  installing  valve  guides
can   be   made   locally   to   the   dimensions
shown in the insert on Figure 108.
Fig. 109 Adjusting Valve Guide Installer SE-1943 for Proper
Height
1.
Adjusting screw
3.  Body
2.
Locknut
After  guides  are  installed,  insert  SE-2215  reamer  in
the  guides  to  see  that  they  have  not  been  distorted  during
installation and to remove any burrs.
Cylinder   head   core   plugs   should   not   be   disturbed
unless evidence of leakage exists.  Remove and install plugs
as inspection warrants.  The plugs can be removed by drilling
a small hole in the center of the plug and with a suitable pry or
screwdriver, remove the plug from its bore.  To install a new
plug, coat the outer edge with a suitable nonhardening sealing
compound  and  with  installer  SE1945  and  driving  handle  SE-
1581-lB,  install  plug  flush  with  bottom  edge  of  chamfer  in
cylinder head, Figure 110.
Fig. 110 Installing Cylinder Head Core Plugs Using Installer
SE-1945 and Driver Handle SE-1581-1B
1.
Hammer
4.
Cylinder head
2.
Driver handle
5.
Core plug
3.
Installer
CGES-210  Page 40
PRINTED IN UNITED STATES OF AMERICA