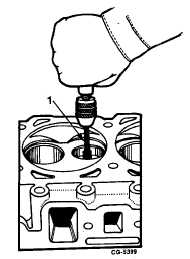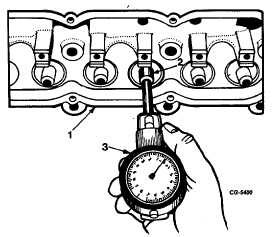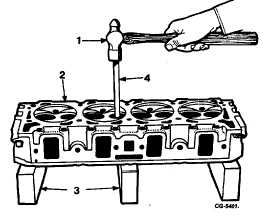 ENGINE DIVISION SERVICE MANUAL
TM 5-4210-230-14&P-1
ENGINE
Inspect    the    valve    springs    for    proper    tension    as
outlined  in  specifications.  Any  evidence  of  wear,  cracks  or
permanent   sets   will   require   replacement.      SE-2241   spring
tester,   Figure   104,   or   similar   tool   can   be   used   to   check
tension.
Inspect valve locks for excessive wear and replace in
pairs    as    required.    Rotate    the    Roto-Coil    assemblies    and
replace    if    any    wear    or    irregularities    are    noted.        Note
particularly if the Roto-Coil is bound up or feels gritty.
Remove  SE-1939  Holding  Fixture  (if  installed)  and
position  the  cylinder  head  with  combustion  chamber  facing
upward  on  support  blocks,  Figure  108.    This  preparation  is
done for valve guide removal.
Check     the     valve     guide     bore     dimensions     (see
specifications).    Prior  to  inspection  it  is  necessary  to  clean
guides.  There are many commercially available wire brushes
and scrapers, Figure 105, that clean guides very satisfactorily.
Similarly,   there   are   various   instruments   for   measuring   the
guide  bores  small-bore  gauge  SE-2506,  plug  gauges,  etc.,
Figure 106. Plug gauges of the "go" and "no-go" type are most
popular   because   of   the   facility   with   which   guides   can   be
checked.          However,     there     are     two     undesirable     guide
conditions which are difficult to check with gauges of this type:
elliptical  or  egg-shaped  bore  wear  and  bell-mouthing  at  the
port  of  the  guide.    Careful  guide  inspection  will  detect  egg-
shaped wear while careful use of the "no-go" gauge will tend
to    show    the    degree    of    bell-mouthing.        Replacement    is
recommended  for  guides  having  bore  diameters  beyond  the
recommended   limit   or   which   are   bell-mouthed   more   than
.0005"   or   which   show   egg-shaped   wear.      Excessive   guide
clearance prevents adequate cooling of the valve through the
guide  and  also  allows  deposits  to  tilt  or  tip  the  valve  which
may   cause   valve   breakage   at   high   engine   speed.      These
conditions tend to prevent good seating and promote leakage
across the valve face.  Excessive guide clearance also affects
the proper lubrication of the valve stem.
Fig. 105  Valve Guide Cleaning Tool
1.  Cleaning tool
Fig. 106 Checking Guide Bore Using Gauge SE-2506
1.
Cylinder head
3.
Bore gauge
2.
Valve guide
Replacement   guides   are   designed   to   give   proper
clearance when installed in the cylinder head.  Reaming is not
required  but  care  must  be  taken  to  see  that-the  ends  of  the
guides are not burred during installation.
Fig. 107 Removing Valve Guides with SE-1722
1.  Hammer
3.  Support blocks
2.  Cylinder head
4.  Remover
CGES-210  Page 39
PRINTED IN UNITED STATES OF AMERICA