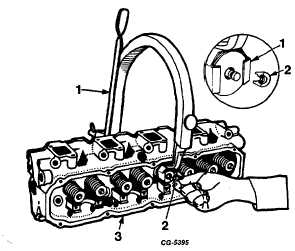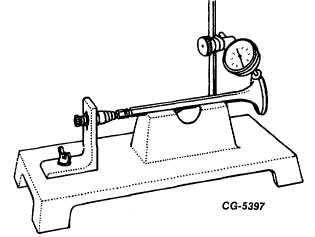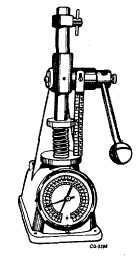 ENGINE DIVISION SERVICE MANUAL
TM 5-4210-230-14&P-1
ENGINE
surfaces  for  scratches  or  mars  which  could  cause  leakage
after  assembly.    The  use  of  holding  fixture  SE-1939  reduces
the chances of gasket surface damage.
Check  the  gasket  surface  of  the  cylinder  head  for
trueness  with  a  straightedge.    Test  by  attempting  to  insert  a
.003"    feeler    gauge    ribbon    between    the    straightedge    and
cylinder  head.    If  this  is  possible,  either  resurface  or  replace
the cylinder head.
NOTE:
When   resurfacing   the   cylinder   head,   do
not    remove    more    than    .005"    material.
Cylinder head height measurement should
be taken between the machined surface of
the head and the machined surface of the
bolt  bosses  on  the  exhaust  manifold  side
of the head.  The original specification for
this measurement is 3.282"

+

.010".
The cylinder head assemblies and head gaskets are
interchangeable from one cylinder bank to another.
To  disassemble  the  valve  assembly,  turn  the  head
assembly in a vertical position either on a clean work bench or
using  SE-1939  cylinder  head  holding  fixture  as  a  cradle  to
hold the assembly.
Apply   a   valve   spring   compressor   and   remove   the
valve   keepers   or   locks,   Figure   102.      Remove   the   spring
compressor  and  disassemble  the  spring  retainer,  valve  stem
seal    and    Roto-Coil    assembly    from    the    exhaust    valves.
Remove the spring retainer, valve stem damper, spring, valve
stem  seal  and  valve  spring  seat  from  the  intake  valves.    All
valves are removed in
Fig. 102 Removing Valve Keepers
1.
Valve spring compressor
2.
Keepers
3.
Cylinder head
the   same   manner.      Keep   valves   and   their   related   parts
together   so   they   may   be   reinstalled.      in   their   respective
positions.
NOTE:
It   may   be   necessary   to   strike   the   valve
ends with a light, soft hammer to break the
valve keepers loose.
Remove all carbon from valve stems and head using
a   fine   wire   brush   or   buffing   wheel.      Inspect   each   valve,
discarding any that show evidence of burned, warped or bent
condition.    SE-2614  valve  gauge,  Figure  103,  or  similar  tool
can be used for checking stem straightness and seat run-out.
Fig. 103  Checking Valve Stem Straightness and Face Run-
Out
Fig. 104 Checking Spring Tension Using SE-2241 Tester
CGES-210  Page 38
PRINTED IN UNITED STATES OF AMERICA