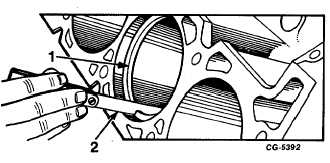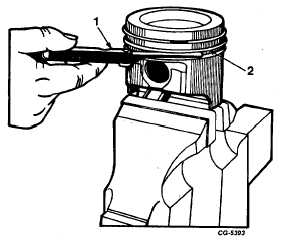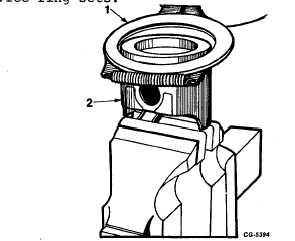 ENGINE DIVISION SERVICE MANUAL
TM 5-4210-230-14&P-1
ENGINE
is  square  with  the  cylinder  wall.    Check  the  space  or  gap
between  the  ends  of  the  ring  with  a  feeler  gauge,  Figure  99.
See specifications for proper ring gap.
NOTE:
Extreme  care  should  be  taken  during  this
operation.
Fig. 99 Checking Ring Gap
1.
Piston ring
2.
Feeler Gauge
If the gap on the compression rings is less than the
limit, try the next size smaller ring. Each ring should be fitted
and  checked  in  the  cylinder  in  which  it  is  to  be  used  and
marked accordingly.
Piston rings should be checked for side clearance in
the  groove  of  the  piston  on  which  they  are  to  be  installed.
This is done by placing the outer edge of the ring in the piston
groove, rolling the ring entirely around the piston to make sure
the ring is free in the groove.  With a feeler gauge check the
side clearance
Fig. 100  Checking Ring-to-Groove Side Clearance with Feeler
Gauge
1.
Feeler Gauge
2.
Piston ring
of   each   ring   in   its   respective   groove,   Figure   100.      See
specifications for proper clearance.
Assemble the rings on the pistons to which they were
fitted by using a piston suitable ring expander tool.  This type
of  tool  is  recommended  to  avoid  over-expanding  and  also  to
expand the ring to a true circle to avoid distortion, Figure 101.
General  practice  is  to  stagger  the  ring  gaps  when  installing
piston  rings.    For  further  information  refer  to  the  instructions
furnished with the service ring sets.
Fig. 101 Installing Piston Ring Using Suitable Piston Ring
Expander Tool
1.
Piston ring expander
2.
Piston
Cylinder Heads, Valves, Valve Guides, Springs, Etc.
The   cylinder   heads,   as   removed   from   the   engine,
contain the valve mechanism. The rocker arms were removed
prior to removing the heads.  Position the cylinder head on the
intake  manifold  surface  on  a  clean  work  bench  or  install  the
cylinder    head    in    holding    fixture    SE-1939    to    protect    the
machined
surfaces
during
cleaning
and
disassembly
operations.
With  the  valves  installed  to  protect  the  seats,  clean
the carbon deposits from the combustion chambers and valve
heads   with   a   wire   brush   and   scraper.   Wash   the   heads   in
cleaning  solvent  to  remove  dirt  and  grease  from  all  surfaces
and dry thoroughly.  Check all water passages to make sure
they are clear and open.
Examine the cylinder heads for water leaks or cracks
in  the  combustion  chambers,  exhaust  ports  and  around  the
valve seats.  Inspect the machined or gasket
CGES-210  Page 37
PRINTED IN UNITED STATES OF AMERICA