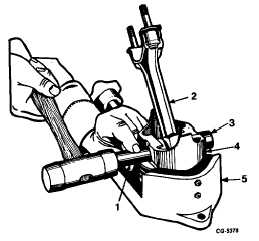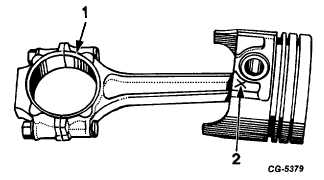 ENGINE DIVISION SERVICE MANUAL
TM 5-4210-230-14&P-1
ENGINE
Heat piston in boiling water or piston heater and after
placing piston in vise drive pin from assembly with a suitable
remover or brass drift and soft hammer, Figure 85.
Fig. 85  Removing Piston Pin
1.
Brass drift
4.
Piston
2.
Connecting rod
5.
Piston vise
3.
Pin
After   the   pin   is   removed,   separate   the   piston   from   the
connecting  rod,  taking  precaution  to  see  that  the  parts  are
marked so they may be reinstalled in their respective cylinders
unless defective.
NOTE:
Pistons should also be marked at this time
to  insure  they  are  reinstalled  in  the  same
position   on   the   connecting   rod   as   they
were    removed,    Figure    86.        Mark    the
pistons    so    that    the    mark    will    not    be
removed during cleaning operation.  If new
pistons   are   installed,   piston   may   be   -
installed either way on the connecting rod.
Fig. 86  Mark Piston for Identical Reinstallation on
Connecting Rod
1.
Large chamfer
2.
Place mark here
Remove  all  old  rings  and  immerse  all  parts  of  the
piston in cleaning solvent and clean thoroughly.  Use a special
ring groove cleaner on broken piston ring to clean all carbon
from the piston ring grooves.
NOTE:
Never  use  a  caustic  solution  for  cleaning
aluminum pistons.
Inspect  the  pistons  for  scuffed  or  scored  skirts  or
cracked   or   worn   ring   lands,   discarding   any   showing   such
condition.
To   select   the   correct   size   pistons   for   an   engine
overhaul,   the   size   of   the   cylinder   bore   diameters   must   be
determined first.  This can be accomplished with the use of an
inside   reading   micrometer   SE-686   or   dial   bore   gauge   SE-
2331. (Refer to Figure 71.) Each bore should be measured at
the  top  of  ring  travel  and  the  lower  end  of  ring  travel  both
parallel and at right angles to the crankshaft.
After   the   cylinder   bores   have   been   measured   and
recorded,  the  next  step  is  to  select  a  piston  to  fit  a  certain
bore. This is accomplished by measuring the piston at the top
of the skirt across the thrust faces with an outside micrometer,
Figure 87.  The size piston selected should be large enough to
permit  cleaning  up  the  cylinder  bore  and  provide  the  proper
running clearance as shown in the specifications.
Cylinder  blocks  having  deep  scuff  or  score  marks
may require reboring for use of oversize pistons; therefore, the
foregoing information still applies.
Fig. 87
1.
Measure piston at this area for fitting.
CGES-210  Page 31
PRINTED IN UNITED STATES OF AMERICA