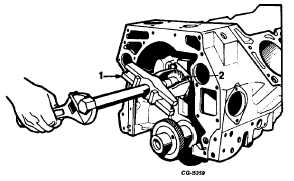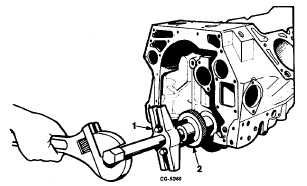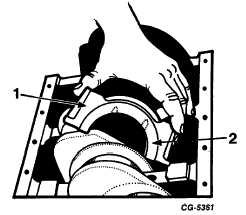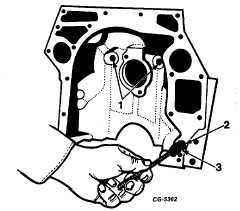 ENGINE DIVISION SERVICE MANUAL
TM 5-4210-230-14&P-1
ENGINE
Fig.  66
1

.  

Puller
2

.  

Distributor Gear
69.
Use  SE-1368  Puller  to  remove  the  crankshaft  gear,
Figure 67

.   

If  necessary,  use  an  adapter  or  heavy  flat
washer   between   the   crankshaft   and   puller   screw   to
prevent damage to the internal threads.
Fig.  67  Using SE-1368 Puller to Remove Crankshaft Gear
1

.  

Puller
2

.  

Crankshaft gear
70.
The    crankshaft    bearing    caps    are    numbered    and
arrowed to the front to identify their respective positions
for   reinstallation

.      

The   number   three   bearing   cap
accommodates  a  thrust  flange  to  limit  crankshaft  end
play, Figure 68

.   

Remove bolts from bearing caps and
remove all main bearing caps.
71.
Lift  the  crankshaft  straight  up  and  out  of  the  cylinder
block

.  

Remove upper bearing inserts.
Fig.  68  Main Bearing Cap Removal
1

.  

Number
3 main bearing cap
2

.  

Thrust flange
ENGINE OVERHAUL
Cylinder Block
One     of     the     most     important     phases     of     engine
reconditioning  is  the  thorough  cleaning  and  inspection  of  the
cylinder block.
Each machined surface of the cylinder block should be
cleaned of all old gasket material

.  

The pipe plugs which seal
the   oil   passages   should   be   removed   and   all   passages
thoroughly cleaned.
Remove  the  main  oil  gallery  plug  and  use  SE-2334-2
Brush (3/8" diameter) to clean the main oil gallery, Figure 69

.
Replace  oil  plug  after  coating  with  a  suitable  nonhardening
sealing compound.
Fig.  69  Cleaning Main Oil Gallery with SE-2334-2 Brush
1

.  

Tappet oil galleries
3

.  

Brush
2

.  

Main oil gallery
CGES-210  Page 25
PRINTED IN UNITED STATES OF AMERICA