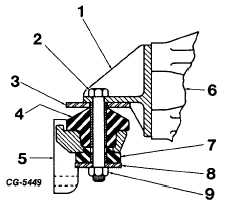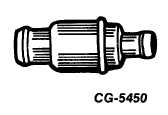 ENGINE DIVISION SERVICE MANUAL
TM 5-4210-230-14&P-1
ENGINE
Fig.  7  Engine Rear Mounting with Two-Piece Insulator
1.
Bracket
2.
Bolt-torque to 160-175 ft. lbs.
3.
Washer
4.
Upper insulator
5.
Bracket to frame rail
6.
Flywheel housing
7.
Lower insulator
8.
Washer
9.
Locknut
CRANKCASE VENTILATION SYSTEM
The  purpose  of  this  system  is  to  prevent  crankcase
vapors  from  entering  the  atmosphere  by  drawing  the  vapors
into the intake manifold and burning them with the normal fuel
mixture.  The system utilizes the vacuum created in the intake
manifold  to  draw  clean  air  through  the  crankcase  and  valve
chamber.    Fresh  air  enters  the  cylinder  head  cover  through
the flame arrestor by route of the connecting hose from the air
cleaner.    The  flame  arrestor  must  be  serviced  at  intervals
according to the "Operator's Manual."
The  crankcase  ventilator  valve,  Figure  8  located  in
the  right  cylinder  head  cover  varies  the  air  flow  through  the
crankcase  to  meet  changing  conditions  at  all  engine  speeds
and  loads.    The  system  will  work  effectively  as  long  as  all
component  parts  are  clean  and  free  from  sludge  and  foreign
material.
The    valve    should    be    serviced    and    the    system
inspected and cleaned at intervals set forth in the "Operator's
Manual." It may be necessary to inspect and clean the system
more frequently under adverse driving or weather conditions.
To  check  the  operation  of  the  system,  first  remove
the  valve  from  the  cylinder  head  cover;  then  with  the  engine
operating, a vacuum should be felt at the end of the valve.  If
no  vacuum  is  present,  the  valve,  hose  and  fitting  should  be
removed  and  cause  of  the  restriction  determined.    The  inner
chamber  of  the  valve  should  be  checked  by  inserting  a  stiff
wire  into  the  valve  body  to  see  that  it  can  be  moved  freely.
Upon reinstallation, the crankcase ventilation valve should be
installed as indicated on the valve by an arrow.
Fig.  8  Crankcase Ventilator Valve of One-Piece Construction
The    oil    filter    cap    is    non-vented,    and    therefore,
requires no service.
ENGINE REMOVAL
Engine removal procedures will vary between vehicle
models   and   also   between   individual   chassis   because   of
various   equipment   and   accessories.      The   following   outline
covers,  in  general,  the  engine  disconnect  points  and  lifting
instructions.
Preliminary Instructions
1.  Remove front bumper, if equipped with steel hood.
2.  Raise hood.
3.  Disconnect battery cable from battery.
4.  Drain radiator and engine block.  See Figures 2 & 3 for
location of engine coolant drain cocks.
5.  Drain oil from engine oil pan.
6.  Remove hood assembly.
7.  Disconnect shutter cylinder air line, if so equipped.
8.  Disconnect radiator hoses.
9.    Remove  radiator  support  and  core  assembly  (fiberglass
hood   only).      If   equipped   with   steel   hood,   disconnect
headlamp,    etc.,    wiring    at    cowl    and    remove    radiator
support   and   core   assembly   with   fenders   and   splash
panels as an assembly.
CGES-210  Page 8
PRINTED IN UNITED STATES OF AMERICA