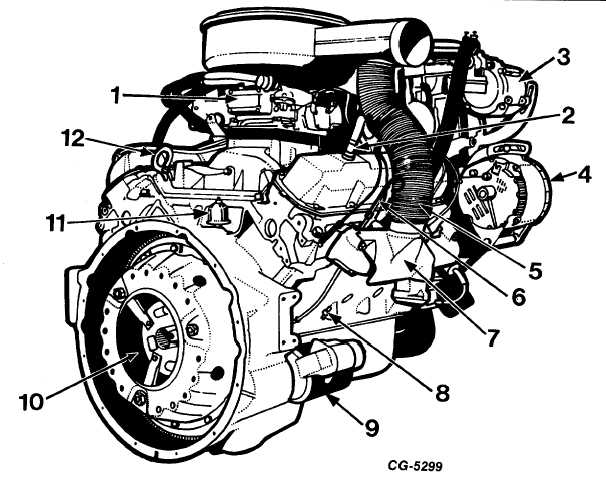 ENGINE DIVISION SERVICE MANUAL
TM 5-4210-230-14&P-1
ENGINE
Fig.  3  Right Rear View of Engine
1.
Carburetor
7.
Manifold shroud
2.
PCV valve
8.
Drain cock
3.
Air pump
9.
Starting motor
4.
Alternator
10.
Clutch
5.
Shroud hose
11.
Oil pressure sending unit
6.
Dipstick
12.
Lifting eye
The hydraulic valve lifters minimize engine noise and
maintain zero valve lash or tappet clearance.  This eliminates
the need for periodic adjustment.
The    cylinder    head    assemblies    feature    a    high
turbulence-type    of    combustion    chamber    which    provides
superior   combustion   characteristics   to   produce   very   high
volumetric and thermal efficiencies.  The cylinder heads used
on  the  engines  are  equipped  with  a  positive  valve  rotating
mechanism on the exhaust valve only.  This device is called a
"Roto  Coil"  and  is  located  at  the  base  of  each  exhaust  valve
spring.    The  cylinder  heads  also  incorporate  an  integral  air
manifold.
Another  important  feature  of  the  cylinder  heads  is
that  they  are  completely  interchangeable  from  one  cylinder
bank to the other bank.  The cylinder head gaskets are made
of composition material which prevents compression leakage
between  the  cylinder  block  and  cylinder  head.    The  gaskets
also prevent leakage of water from the water jackets into the
cylinders.    The  gaskets  are  also  interchangeable  from  one
bank to another.
When  viewing  the  engine  from  the  driver's  seat,  the
cylinders on the left bank are numbered 2, 4, 6 and 8 with No.
2 being at the front.  Similarly, the cylinders on the right bank
are numbered
CGES-210  Page 4
PRINTED IN UNITED STATES OF AMERICA