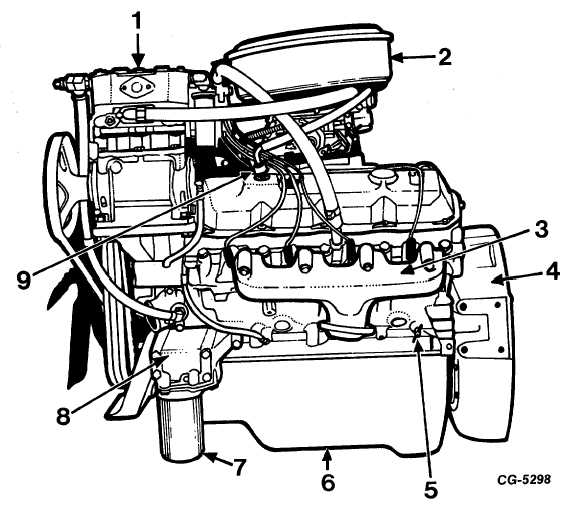 ENGINE DIVISION SERVICE MANUAL
TM 5-4210-230-14&P-1
ENGINE
Fig.  2  Left Side View of Engine
1.
Air compressor
6.
Oil pan
2.
Air cleaner
7.
Oil filter
3.
Exhaust manifold
8.
Oil cooler
4.
Flywheel housing
9.
Flame arrestor
5.
Drain cock
The    camshaft    is    supported    by    five    insert-type
bearings pressed into the block and is driven by a drive gear
keyed  to  the  crankshaft.    The  end  thrust  of  the  camshaft  is
controlled    by    a    thrust    flange    located    between    the    front
camshaft journal and the distributor drive gear.
The
aluminum-alloy
pistons
are
fitted
with
compression rings and an oil ring and are used in the engine
with forged steel connecting rods.  The full-floating type piston
pins are held in place in the pistons at the ends of the pins by
snap  rings.    The  lower  end  of  the  connecting  rod  and  cap
contain  locking  type  bearing  inserts.    The  rods  and  caps  are
numbered for identification and reassembly.
CGES-210  Page 3
PRINTED IN UNITED STATES OF AMERICA