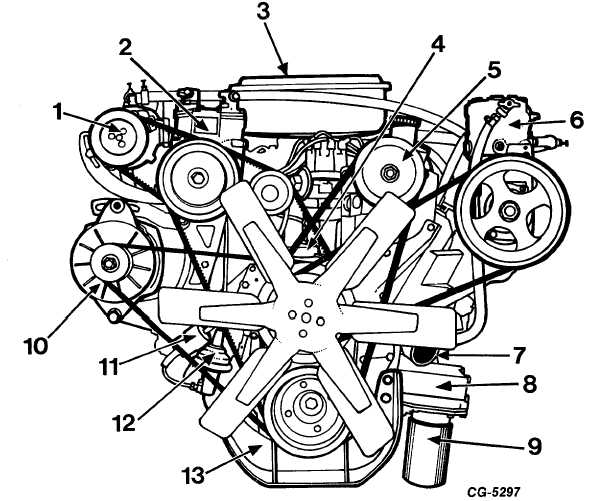 ENGINE DIVISION SERVICE MANUAL
TM 5-4210-230-14&P-1
ENGINE
Fig.  1  Front View of Engine
1.
Air pump
8.
Oil Cooler
2.
Freon compressor
9.
Oil filter
3.
Air cleaner
10.
Alternator
4.
Engine water inlet
11.
Gasoline filter
5.
Power steering pump
12.
Fuel pump
6.
Air compressor
13.
Engine mounting bracket
7.
Engine water outlet
ENGINE DESCRIPTION
The  V-Series  engines  covered  in  this  section  are  8-
cylinder,
overhead
valve,
900
type.
Dimensional
specifications     of     the     various     models     are     listed     under
"Specifications."  Figures  1,  2  and  3  illustrate  the  complete
engine assembly.
The  basic  unit  of  the  engine,  the  cylinder  block  and
upper crankcase, is cast in one piece and is of extremely rigid
construction.  It provides full-length water jackets surrounding
each of the cylinders.  This unit forms the major section of the
engine  as  it  is  fitted  with  the  crankshaft,  camshaft,  pistons
and various related parts.
The forged alloy steel crankshaft is supported by five
insert-type main bearings.  Crankshaft end thrust is controlled
by the flanges of the No.  3 main bearing.
CGES-210  Page  2
PRINTED IN UNITED STATES OF AMERICA