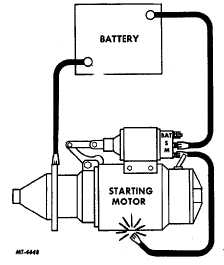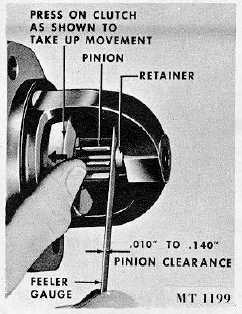 TRUCK SERVICE MANUAL
TM 5-4210-230-14&P-1
ELECTRICAL
3.
The
remaining
portion
of
the
starting
motor
reassembly
procedure
is
the
reverse
of
the
disassembly.
4.
When
installing
the
solenoid,
apply
sealing
compound between field frame and solenoid flange.
PINION CLEARANCE
Pinion
clearance
should
be
inspected
after
reassembly of the motor to insure proper adjustment.  Check
pinion clearance following the steps listed below.
1.
Disconnect  the  motor  field  coil  connector  from  the
solenoid motor terminal.
CAREFULLY INSULATE IT.
2.
Connect   a   battery,   of   the   same   voltage   as   the
solenoid,  one  lead  to  solenoid  switch  terminal  and
the other to the starter or solenoid frame, Fig.  12.
Fig.  12  Pinion Drive Clearance Check Hookup
3.
Connect a jumper wire to the starting motor terminal
on  the  solenoid;  then  touch  the  second  end  to  the
motor frame.  This will shift the pinion into cranking
position and remain until the battery is disconnected.
CAUTION:    Do  not  keep  the  jumper  wire  connected
too long as overheating of the solenoid may result.
4.
Push   the   pinion   back   towards   commutator   end   to
eliminate any overtravel.  Then measure the distance
between  the  pinion  stop  and  pinion.    The  clearance
should be .01 to .14, Fig.  13.
Fig.  13  Checking Pinion Clearance
There   are   no   provisions   for   adjusting   the   pinion
clearance  on  the  enclosed  shift  lever  type  starting  motors.
Therefore,   if   the   pinion   clearance   does   not   fall   within   the
specified  limits  (.01  to  .14),  inspect  the  solenoid  linkage  or
shift lever yoke buttons for excessive wear.
CTS-2258-K  Page 9
PRINTED IN UNITED STATES OF AMERICA