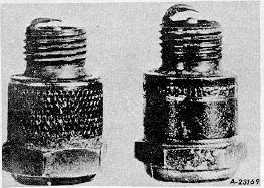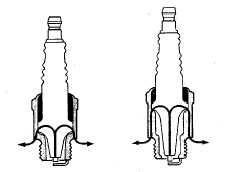 TRUCK SERVICE MANUAL
TM 5-4210-230-14&P-1
ELECTRICAL
has become worn away or the ground electrode has become
so badly eroded at the sparking area that resetting of the gap
is  either  difficult  or  impossible,  the  spark  plug  is  not  fit  for
further efficient engine service--even if cleaned.
Fig.  17  Condition of Electrodes
CLEANING AND SETTING
Remove spark plug gaskets if plugs are to be cleaned.
Remove oily deposits from both firing end and outside
surface  of  plug  using  a  commercial  cleaning  solvent  which
dries  quickly.    Failure  to  remove  oil  from  spark  plugs  will
result  in  cleaner  abrasive  packing  inside  the  firing  end  of
spark plug if an abrasive type cleaner is used.
Use the instructions provided with the liquid spark plug
cleaner   and   tester   (SE-2190)   and   be   sure   the   plugs   are
thoroughly dry before testing.
If  an  abrasive  type  plug  cleaner  is  used,  be  sure  the
spark plugs are free of abrasive material before testing.
Pass   a   thin   point   file   between   center   and   ground
electrodes to smooth up both surfaces.
Reset  gap  by  moving  ground  side  electrode  only.    Do
not touch center electrode, as insulator tip fracture may result.
Bend ground electrode toward center electrode.
Using a wire feeler gauge, gap plugs to specifications.
A  very  slight  drag  should  be  felt  when  feeler  gauge  passes
between electrodes.
Use  the  instructions  provided  with  the  tester  to  check
spark plugs.
NOTE:
Never   assume   you   are   simulating   cranking
compression   when   using   the   tester.      Air
pressure   in   a   bench   tester   has   no   direct
relation     to     engine     compression     for     the
following reasons:
1.
There   are   no   temperature   effects   in   the   bench
test.    Heated  electrodes  within  warm  cylinders  in  an
engine  require  less  voltage  than  under  a  cold  bench
test.
2.
There is no fuel/air charge in the bench tester.
3.
Since spark plug firing is dependent on engine timing,
firing  of  the  spark  plugs  is  not  always  at  the  point  of
maximum compress ion.
4.
There  is  no  cylinder  turbulence  in  the  tester  pressure
chamber.
Because   of   these   variables,   the   bench   test,   while
useful, cannot be measured by any specific psi readings.
HEAT RANGE
Spark  plug  heat  range  is  the  primary  factor  governing
spark   plug   performance   under   various   service   conditions.
The  term  "heat  range  simply  refers  to  the  classification  of
spark plugs according to their ability to transfer heat from the
firing end of the plug to the cooling system of the engine.
The  rate  of  heat  transfer,  or  heat  range,  is  controlled
basically by the distance between the inside gasket seat and
the insulator tip.
A   "cold"   type   plug,   Fig.      18,   has   a   relatively   short
insulator nose and transfers heat very rapidly into the engine's
cooling   system.      Such   a   plug   is   used   in   heavy-duty   or
continuous high speed operation to avoid overheating.
MT-3754
Fig.  18  Construction and Heat Flow of "Hot" and "Cold"
Plugs
The   "hot"   type   plug,   Fig.      18,   has   a   much   longer
insulator  nose  and  transfers  heat  more  slowly  away  from  its
firing  end.    Thus,  it  runs  hotter  and  burns  off  combustion
deposits  which  tend  to  foul  the  plug  during  prolonged  idle  or
low-speed operation.
CTS-2016-J  Page 7
PRINTED IN UNITED STATES OF AMERICA