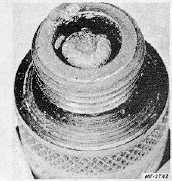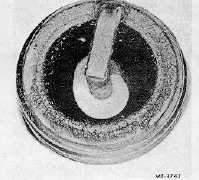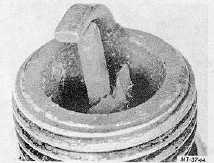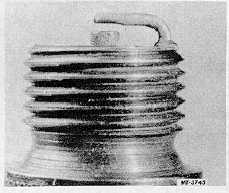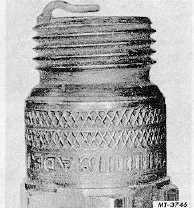 TRUCK SERVICE MANUAL
TM 5-4210-230-14&P-1
ELECTRICAL
Fig.  12  Sustained Preignition Damage
Chipped
Insulator
The chipped insulator shown in Fig.  13 results from bending
the   center   electrode   during   regapping   of   the   plug.      Under
certain  conditions  severe  detonation  can  also  split  insulator
firing ends.  Obviously, the plug must be replaced.
Fig.  13  Chipped Insulator
Mechanical
Damage
Mechanical damage to plug shown in Fig.  14 is caused by a
foreign object in the combustion chamber.  Small objects can
travel    from    one    cylinder    to    another    (because    of    valve
overlap).    Be  sure  to  check  the  other  cylinders  to  prevent
recurrence   of   damage.      When   working   on   an   engine,   be
certain  the  carburetor  throat  and  spark  plug  holes  are  kept
covered.
Fig.  14  Results of Mechanical Damage
Reversed
Coil
Polarity
Reversed  coil  polarity  can  often  be  detected  by  "dishing"  of
the   ground   electrode.      Note   in   Fig.      15   that   the   center
electrode is usually not worn badly.  This source of misfiring
and rough idle can be corrected by reversing the primary coil
leads.
Fig.  15  Reversed Coil Polarity
Spark
Plug
Gap
Tools
Pressure-type  (plier)  gap  tools,  if  improperly  used,  impose  a
tremendously high unit pressure on the center electrode (Fig.
16).  This  is  because  of  compression  being  exerted  between
the end of the center electrode and the top of the shell.  If too
much   force   is   applied   through   leverage   multiplication,   the
center  electrode  seal  on  any  type  or  brand  of  spark  plug  is
likely to be damaged.  The conventional type gap tool, which
should   only   contact   the   ground   electrode,   is   less   likely   to
damage the plug.
Fig.  16  Damage to Spark Plug from Pressure (Plier)
Type Gap Tools
Condition
of
Electrodes
The extent of service and mileage to which a spark plug has
been  subjected  is  generally  best  indicated  by  the  degree  of
wear of the electrodes, Fig.  17.  When the center electrode
CTS-2016-J  Page 6
PRINTED IN UNITED STATES OF AMERICA