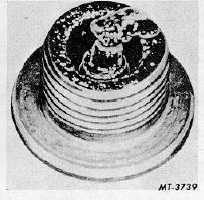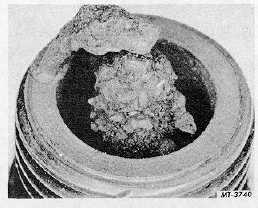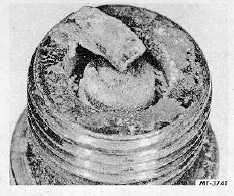 TRUCK SERVICE MANUAL
TM 5-4210-230-14&P-1
ELECTRICAL
Fig.  8  Effects of Turbulence Burning
Wet
Fouling
Wet  fouling,shown  in  Fig.    9,  illustrates  that  the  plug
has  drowned  in  excess  oil.    In  an  old  engine,  suspect  worn
rings  or  excessive  cylinder  wear.    In  OHV  engines  too  much
oil may be coming in past the valve guides.  Also, depending
on   cylinder   location,   this   fouling   can   suggest   a   leaking
vacuum booster pump diaphragm.  Use of a hotter plug may
relieve such fouling, but plugs can't take the place of needed
engine overhaul.  Remember that plug fouling in new engines
may  occur  before  normal  oil  control  is  achieved.    In  new  or
recently overhauled engines such fouled plugs can be cleaned
and reinstalled.
Fig.  9  Wet Fouling
Silica
Deposits
Silica deposits, illustrated in Fig.  10, are hard and scratchy.
This  material  is  largely  lead  silicate  formed  when  fine  sand
particles (silicate) combine with the anti-knock compounds in
the fuel.  It's most common in trucks operating in dusty areas
or in sand loading operations.  Such plugs cannot be cleaned.
Always  check  for  intake  manifold  leaks  and  see  that  the  air
cleaner on the engine is in good condition.
Fig.  10  Silica Deposits
Fuel
Scavenger
Deposits
Fuel  scavenger  deposits  shown  in  Fig.    11  may  be
white or yellow in color.  They may appear to be bad, but this
is   a   normal   appearance   with   certain   brand   fuels.      Such
materials   are   designed   to   change   the   chemical   nature   of
deposits
to
lessen
misfire
tendencies.
Notice
that
accumulation on the ground electrode and shell areas may be
unusually  heavy,  but  the  material  is  easily  flaked  off.    Such
plugs   can   be   considered   normal   in   condition   and   can   be
cleaned with standard procedures.
Fig.  11  Fuel Scavenger Deposits
Sustained
Preignition
Damage
Sustained  preignition  damage,  illustrated  in  Fig.    12,
usually  involves  melting  of  the  ceramic  firing  tip.    Since  this
requires temperatures about 2700°F, other components of the
engine may also have been damaged by preignition.  This is
another sure sign that a careful inspection of the engine and
its adjust ments is required.
CTS-2016-J  Page 5
PRINTED IN UNITED STATES OF AMERICA