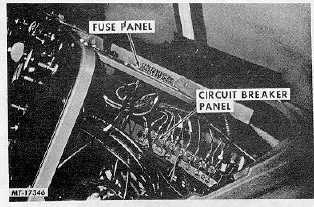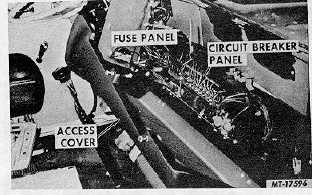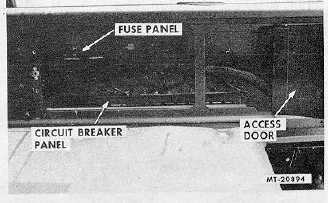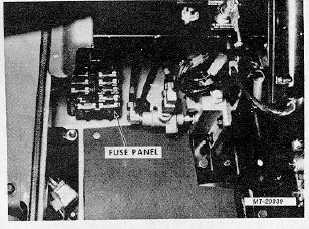 TRUCK SERVICE MANUAL
TM 5-4210-230-14&P-1
ELECTRICAL
Fig. 10  Fuse Panel and Circuit Breaker Panel Locations
CO-4070B   Transtar   II   Vehicles   (Access
Cover Removed for Illustration)
4200,  4300  Transtar  Conventional  Series  and  5000  Paystar
Series
On  these  vehicles,  the  fuse  panel  and  circuit  breaker
panel are located beneath a hinged access cover at the right
side of the instrument panel (Fig.  11).
Fig. 11  Fuse Panel and Circuit Breaker Panel Locations
4200,    4300    Transtar    Conventional    and
5000 Paystar Vehicles

.
CO
-
5370
Series
The  fuse  and  circuit  breaker  panels  on  these  vehicles
are  located  behind  an  access  door  at  the  right  center  of  the
instrument panel (Fig.  12).
Fig.    12            Fuse    Panel    and    Circuit    Breaker    Panel
Locations CO-5370 Vehicles
S
-
Series
The fuse panel is located at the upper left corner of the
dash panel (above the clutch pedal) on S-Series vehicles (Fig.
13).
Fig. 13  Fuse Panel Location S-Series Vehicles
S-Series vehicles equipped with trailer wiring
connections also have a trailer wiring fuse panel located
behind the driver's seat at the left rear corner of the cab (Fig.
14).
CTS-2672Q  Page 6
PRINTED IN UNITED STATES OF AMERICA