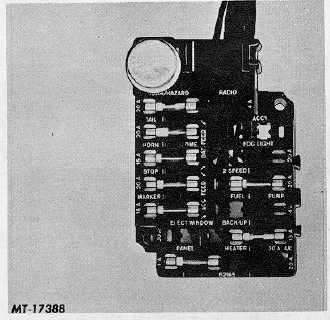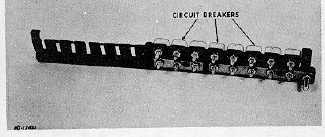 TRUCK SERVICE MANUAL
TM 5-4210-230-14&P-1
ELECTRICAL
DESCRIPTION
All    chassis    incorporate    safety    devices    to    protect
electrical wiring and equipment from short circuits or electrical
overloads.    These  protective  devices  may  be  fuses,  circuit
breakers or fusible links.
Fuses
Fuses are designed to pass a given amount of current.
The current flow limit is indicated by the rating or "Size" of the
fuse  (10  ampere,  14  ampere,  etc.).    Exceeding  this  limit  will
cause the fuse to "blow" opening the circuit.
After   the   cause   of   the   overload   is   determined   and
corrected, a new fuse must be installed in the circuit.  Do not
replace a "blown" fuse with a fuse of higher capacity.  To do
so  may  result  in  damage  to  electrical  components  or  wiring.
Where  fuse  failure  is  encountered,  correct  the  cause  of  the
overload   and   install   a   new   fuse   of   the   originally   specified
rating.
Fuses   for   most   vehicle   wiring   circuits   are   grouped
together  in  a  fuse  panel  (Figure  1).    Some  fuse  panels  have
removable fuse terminals which can be replaced if
Figure 1  Fuse Panel (Typical)
damaged.        Most    fuse    panels    provide    space    to    install
additional     fuse     terminals     if     needed     for     installation     of
accessory circuits.
Locations of fuse panels on various vehicle models are
shown in this section.
Circuit
Breakers
Circuit  breakers  are  designed  to  open  the  circuit  any
time current demand exceeds the capacity of the breaker.  In
the event of short or overload, the circuit breaker will open due
to excessive heat developed by the higher amperage passing
through  it.    When  the  heat  dissipates,  the  breaker  will  close
allowing current flow again.
If   the   cause   of   the   short   or   overload   has   not   been
removed,  the  circuit  breaker  will  open  again  to  protect  the
circuit.      The   current   flow   limit   is   indicated   by   the   rating
(capacity)  of  the  circuit  breaker--15  amperes,  20  amperes,
etc.    Do  not  replace  a  circuit  breaker  with  one  of  a  higher
capacity.
Circuit breakers for vehicle wiring circuits are generally
grouped   together   in   a   circuit   breaker   panel.      Most   circuit
breaker  panels  provide  space  for  installing  additional  circuit
breakers if needed for installation of accessory circuits.
Figure 2  Circuit Breaker Panel (Typical)
Figure  2  illustrates  the  type  of  circuit  breakers  used  in
heavy   duty   vehicles   equipped   with   circuit   breaker   panels.
Figure 3 shows another type of
CTS-2672Q  Page 3
PRINTED IN UNITED STATES OF AMERICA