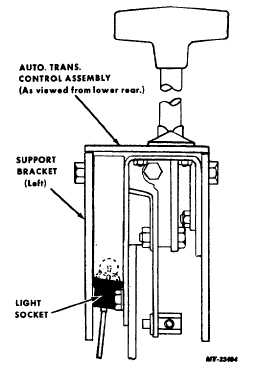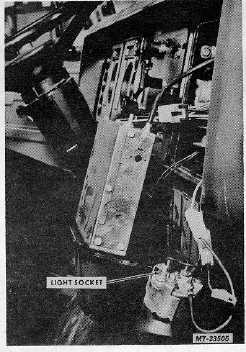 TRUCK SERVICE MANUAL
TM 5-4210-230-14&P-1
ELECTRICAL
6.
Tighten  support  bracket  bolts  (if  loosened  to  permit
light removal).
7.
Check light operation.
Fig.  20  Automatic Transmission Control Light
CONTROL IDENTIFICATION OR WARNING LIGHTS
(Engine Stop, Front Axle)
If bulb fails, it will be necessary to replace the light assembly
as follows:
1.
Pry old light assembly out of slot in instrument panel.
Be careful not to scratch finish of instrument panel.
2.
Disconnect light assembly from wiring harness.
3.
Discard old light assembly.
4.
Connect new light assembly to wiring harness.
5.
Position light assembly into slot in instrument panel.
Push   light   assembly   inward   until   retaining   tangs
"snap"   into   position   securing   light   to   instrument
panel.
6.
Check light operation.
AUXILIARY GAUGE ILLUMINATION LIGHT
(Engine Oil Temperature, Transmission Oil Temperature)
BULB REPLACEMENT
1.
Remove    mounting    screws*    from    cluster    panel
holding radio, ashtray and auxiliary gauge(s).
*   6   without   radio;   8   with   radio.      On   2200
series vehicles, 8 without radio: 10 with radio
2.
Tip     panel     outward     to     gain     access     to
instrument (Figure 21)
Fig.  21  Auxiliary Gauge Illumination Light (Typical)
3.
Disconnect light socket from instrument.
4.
press bulb in lightly and turn counterclockwise to
disengage retaining pins.
CTS-2781S  Page 12
PRINTED IN UNITED STATES OF AMERICA