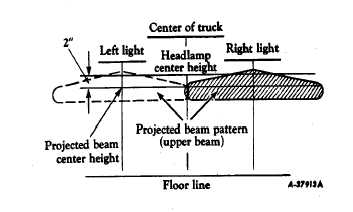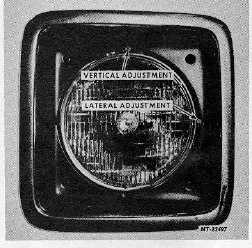 TRUCK SERVICE MANUAL
TM 5-4210-230-14&P-1
ELECTRICAL
INTRODUCTION
Outlined below are service procedures covering lights
used  on  typical  S-Series  vehicles.    Some  vehicles  may  be
equipped    with    additional    accessory    lights    which    are    not
covered herein.
When    diagnosing    light    failure,    first    check    for    a
"blown"   fuse   or   tripped   circuit   breaker.      Fuse   sizes   and
locations are listed in the circuit diagram section of the Truck
Service Manual Refer to the appropriate section covering the
model year of the vehicle being serviced.  If a "blown" fuse or
tripped circuit breaker is found, inspect wiring circuit for cause
of overload and make necessary repairs.
If  fuse  or  circuit  breaker  is  satisfactory,  check  for
"burned  out"  light  bulb  and  replace  if  necessary.    Light  bulb
types  used  in  various  lights  are  listed  in  the  LIGHT  BULB
CHART in this section.
If light bulb is good, check wiring and connectors for
an  "open"  circuit.    A  12-volt  test  light  can  be  used  to  check
circuit   continuity.      Refer   to   the   appropriate   wiring   circuit
diagram.
HEADLIGHTS
HEADLIGHT AIMING
Various   types   of   headlight   aiming   equipment   are
available    commercially.        When    using    aiming    equipment,
follow instructions provided by the equipment manufacturer.
Where  headlight  aiming  equipment  is  not  available,
headlight   aiming   can   be   checked   by   projecting   the   upper
beam  of  each  light  upon  a  screen  or  chart  at  a  distance  of
about  25  feet  ahead  of  the  headlights.    The  truck  should  be
exactly perpendicular to the chart.
Fig.  1  Headlight Aiming Pattern
The  vertical  lines  on  the  chart  (Figure  1)  mark  the
distance  between  the  vertical  center  lines  of  the  headlights
and are equally spaced from the center line of the chart.
A  horizontal  line  should  be  placed  on  the  chart  at  a
level   of   two   (2)   inches   below   the   height   of   the   headlight
centers above the floor.
With  headlights  on  "HIGH"  beam,  the  "hot  spot"  of
each   projected   beam   pattern   should   be   centered   over   the
point of intersection of the vertical and horizontal lines on the
chart, as shown in Figure 1.
If    necessary,    adjust    headlights    vertically    and/or
laterally
to
obtain
proper
aim.
(See
HEADLIGHT
ADJUSTMENT).
IMPORTANT
Headlight aim should always be checked on a
level floor with the vehicle unloaded.
In  some  states,  the  above  instructions  may
conflict   with   existing   laws   and   regulations.
Where   this   is   the   case,   legal   requirements
must be met.
Modify the instructions accordingly.
HEADLIGHT ADJUSTMENT
Adjusting     screws     are     provided     to     move     the     headlight
assembly  in  relation  to  the  hood  (fender)  to  obtain  correct
headlight aim.
Lateral or side-to-side adjustment is accomplished by turning
adjusting screw at side of headlight (Figure 2).
Vertical    or    up-and-down    adjustment    is    accomplished    by
turning adjusting screw at top of headlight (Figure 2).
Fig.  2  Headlight Adjusting Screws
CTS-2781S Page 3
PRINTED IN UNITED STATES OF AMERICA