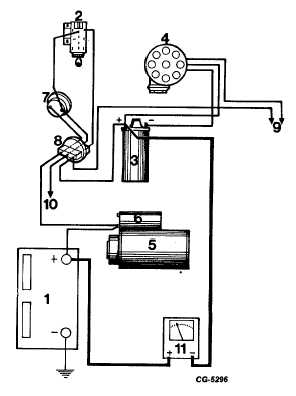 ENGINE DIVISION SERVICE MANUAL
TM 5-4210-230-14&P-1
Clean   cable   terminals   and   apply   a   light   coat   of
lubricant/sealer  (IH  part  number  472141-C1)  of  terminals  at
assembly.  Make sure cables seat properly on distributor cap
and spark plug terminals and in coil tower terminal.
Be  sure  ignition  cables  are  routed  correctly.    Proper
routing of cables must be maintained to prevent crossfire.
PRIMARY VOLTAGE DROP TEST
This   test   can   be   used   to   help   locate   any   high
resistance    or    loose    connections    in    primary    feed    circuit
between the battery and the ignition coil positive (+) terminal.
Test
Procedure
(Refer to Figure 58)
1.
Remove  distributor  cap,  rotor  and  shield.    "Bump"
starter  to  position  sensor  coil   

between

  two   trigger
wheel teeth.
2.
Connect    voltmeter    positive    (red)    lead    to    battery
positive   (+)   terminal.      Connect   voltmeter   negative
(black) lead to coil positive (+) terminal.
3.
Turn  ignition  switch  "on"  and  observe  voltmeter.    A
reading of less than 1 volt should be obtained.
4.
Check circuit conditions by observing voltmeter while
flexing    (moving)    the    connectors    at    the    following
locations:
a.
Battery cables.
b.
Starter solenoid battery terminal.
c.
Dash     panel     (bulkhead)     connector     (where
used).
d.
Ammeter terminals.
e.
Ignition switch connections.
If fluctuation or an upswing of the voltmeter needle is
observed while flexing the connectors, a poor connection
exists and must be corrected.
Fig. 58  Primary Voltage Drop Test
1.  Battery
7.  Ammeter
2.  Ignition Switch
8.  Bulkhead Connector
3.  Ignition Coil
9.  To DTM
4.  Distributor
10.  To Alternator
5.  Starter
11.  Voltmeter
6.  Solenoid
CGES-145-U  Page 28
PRINTED IN UNITED STATES OF AMERICA