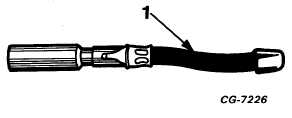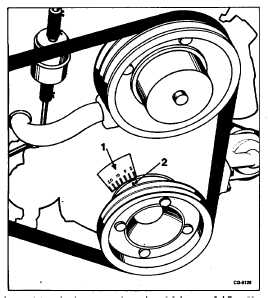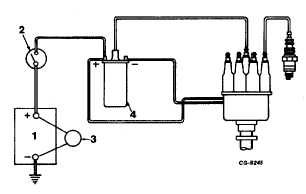 ENGINE DIVISION SERVICE MANUAL
TM 5-4210-230-14&P-1
7.
Connect  timing  light  to  No.    1  spark  plug  (No.    8
spark plug on V-304, V-345, V-392 engines).
IMPORTANT
Do not puncture high tension cables or boots to
make contact.  Use proper adapters.  (Figure 44)
Fig.  44
1.  Adapter
8.
Operate   engine   at   idle   speed   and   observe   timing
marks with timing light.  Rotate distributor housing as
needed to align timing mark on crankshaft pulley with
specified    initial    timing    mark    on    timing    quadrant
(Figure    45).        When    timing    is    correct,    tighten
distributor  hold  down  bolt  and  recheck  timing  to  be
sure it did not change.
9.
Disconnect timing light and connect vacuum hose to
distributor advance unit (where equipped).
Fig. 45.  Timing Marks (V-304, V-345, V392 Engines
Shown)
1.  Timing quadrant
2.  Timing mark
IGNITION SYSTEM TROUBLE SHOOTING TEST
The  procedure  outlined  below  can  be  used  to  check
operation    of    the    electronic    (breakerless)    ignition    system.
Electrical components (coil and electronic control unit) are not
repairable. If the operation test indicates that they are faulty,
replace them.
TEST EQUIPMENT
The   following   equipment   is   required   to   make   the
operation test:
D.  C.  Voltmeter
Insulated grippers for handling high tension cables.
Extension  (adapter)  to  plug  into  high  tension  cable
terminals.
Jumper Wire
TEST PROCEDURE
1.
Test Battery Voltage.
Using   voltmeter,   test   battery   (Figure   46)   voltage
should  be  12-13  volts  for  a  fully  charged  battery.  If
necessary, charge or replace battery.
Fig. 46.  Testing Battery Voltage
1.  Battery
2.  Ignition switch
3.  Voltmeter
4.  Ignition coil
CGES-145-U  Page 23
PRINTED IN UNITED STATES OF AMERICA