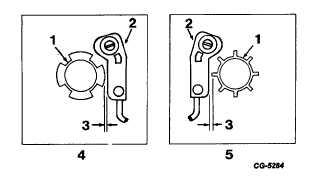 ENGINE DIVISION SERVICE MANUAL
TM 5-4210-230-14&P-1
end   of   tooth   (Figure   43).      Move   sensor   as
needed     to     obtain     specified     air     gap     (see
DISTRIBUTOR TEST SPECIFICATIONS).
Tighten sensor mounting screw and recheck air
gap.
Fig.  43 Trigger Wheel-to-Sensor Air Gap
1.  Trigger wheel
2.  Sensor
3.  Air gap
4.  4 cylinder engine
5.  8 cylinder engine
8.
Mount   distributor   in   distributor   test   stand.      (See
Distributor Operation Test).
9.
Operate   distributor   at   300   RPM   (with   12-13   volts
primary   input   and   observe   dwell   reading.      Dwell
should be within specified limits.
a.
If    dwell    reading    is    within    specified    limits,
trigger wheel to-sensor gap is satisfactory.
b.
If  dwell  reading  is  not  within  specified  limits,
loosen   sensor   mounting   screw   and   adjust
trigger  wheel-to-sensor  air  gap  as  required  to
obtain   specified   dwell.   Move   sensor   toward
trigger  wheel  to  decrease  dwell  or  away  from
trigger    wheel    to    increase    dwell.    Dwell    is
affected   approximately   one-half   (½ )   degree
per  .025  mm  (.001  in.)  of  sensor  movement.
After  correct  dwell  is  obtained,  tighten  sensor
mounting screw.
10.
The mechanical advance mechanism is calibrated at
the factory and no further calibration is required.
11.
Connect test stand vacuum hose to vacuum advance
diaphragm and check operation of vacuum advance.
If   advance   does   not   fall   within   specified   vacuum
readings,   replace   vacuum   diaphragm   and   recheck
vacuum advance operation.
12.
If     distributor     operation     is     satisfactory,     remove
distributor from test stand and install dielectric shield
(dust cover) and rotor.
CGES-145-U  Page 21
PRINTED IN UNITED STATES OF AMERICA